NEWS
OK! Exclusive: Barack and David Letterman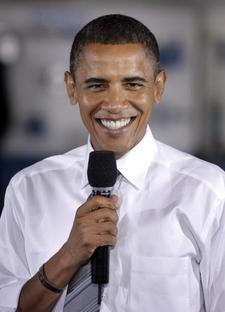 David Letterman's guest tonight on CBS' Late Show is none other Democratic presidential candidate Barack Obama, and OK! was there for a sneak peek.
You can expect Barack to defend his "lipstick on a pig" remark. If the logistics were correct, he explained during an early taping of the show, "Wouldn't that make Palin the lipstick, not the pig?" He added, "McCain's economic policy would be the pig!"
Article continues below advertisement
On the eve of the seventh anniversary of 9/11, Dave asked what Barack would have done if he had been president at the time.
"Bush did the right thing," Barack responded, surprising the audience. "I would have done the same thing, but I would have stayed focused on Afghanistan instead of worrying about Iraq."
The most important thing to Barack is "making sure that my wife and daughters are happy." He recounted following his 10-year-old daughter Malia Ann to 5th grade, where she was learning how to use a combination lock for the first time. "I don't care if she's embarrassed, I'm still going to be there," he said, "I'm her father."
Barack laughed to a packed house of 461 fans that, in addition to Newsweek and Time, he had been offered the cover of Popular Mechanics.
Fellow Letterman guest and Olympic gold medalist LeBron James, proposes another career choice. The Cleveland Cavaliers forward announced to the audience, "He could play for us."
We'd like to see that!