NEWS
Blogger Travels The World On Weekends For Less Than $1K – Find Out How You Can Do It Too!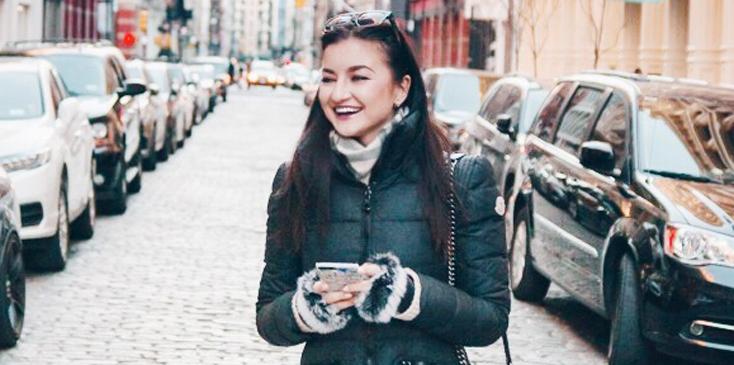 Traveling, we all wish we had the time and the funds! However, one travel blogger tells OK! exclusively that it can be a lot simpler than you imagine if you're willing to think outside the box!
Meet Elona Karafin, a.k.a."Elona The Explorer," (the weekend travel warrior, as I like to call her). The 23-year old likes to spend her weekends in places like Bali, Monaco, Lisbon, Geneva, you name it! That's right, weekends! And she does it without breaking the bank, and with a full-time job!
Article continues below advertisement
While her goal isn't necessarily to help you travel on a budget (she has some great tips, though) it is to help you get rid of the mental roadblocks that stop you from traveling, so you can stop saying "there's not enough time" and start saying "that's it! I'm going to do it!"
OK!: How did you get into travel blogging and what was your initial purpose for "Elona The Explorer"?
It was never meant to be what it is now. I went on a trip to Dubai in the fall of 2015 after seeing it on the travel channel, and getting into this mentality of 'why am I not going?' Asking myself, 'what's stopping you from traveling?'
And when I came back from Dubai a lot of people started asking me, similar questions like: How did you decide to go there? How much did you cost? What did you do? Where did you stay? Where did you eat?
Someone finally suggested that I create an article, which would be helpful to many people and that's basically what I did. I posted an article about my trips to the Emirates and it really helped a lot of people, and everyone was sharing it and I got a lot of good feedback. So I kept writing with the goal to help people follow my footsteps and save money while traveling, and get rid of their mental roadblocks when it comes to traveling.
Article continues below advertisement
OK!: How long are your typical trips?
My typical trip is about four days long. I really focus on long weekend escapes. So I usually fly out on a Wednesday night and come back on a Sunday afternoon or evening. I either take a Monday and a Friday off from work, or a Thursday and a Friday off from work and combine it with the weekends. That's typically how I travel but it varies.
OK!: What's the typical cost of one of your weekend trips?
I try to stay in the $900 to $1200 range for all my trips, but it does vary.
OK!: How do you do manage a full-time job, weekend traveling, and blogging?
Everybody has days off! Everyone has days they're legally able to take. If someone has about 3 weeks off, if you take two days off every month that's potentially seven months out of the year you can take long weekend getaways.
Even if you can do this five times it's a big step up from not going at all. You can go anywhere for a short period of time. A vacation doesn't have to be seven days. There's a big difference between vacationing and traveling…People understand you have a life outside of work. So I think if you work your butt off every day of the week and then you expect one or two days off you can do it. If you build strong relationships in your office, and you work hard so no one has to do the work for you when you're gone, then I don't see the problem with taking the time off.
Article continues below advertisement
OK!: What are some of your budgeting tips?
When it comes to traveling I only travel to places that are in my budget. So they don't necessarily have to be places that I want to go to or have on my list, but because they are cheap in the date range that I know I could take days off on I just go there.
I'm going to Belgium next week and the only reason I'm really going there is because tickets were really cheap from New York that weekend. So I said, hey, it's in my budget, let me make it happen. That's the one thing if you have a budget you have to keep an open mind. It's not always the places that are first on your list that you'll always be able to go to.
I also save a lot of money. I believe in having a savings account that money comes out of your direct deposit so you don't even know it exists.
OK!: What are some of your favorite travel sites?
My go-to's are Skyscanner and JetRadar for flights. In regards to hotels, I like Hotellook.
Recently, I started booking my accommodations and flights separately because I think that's the most money saving trick. It also gives you a lot of mobility with which flights you can take at which times. Whereas with other sites you're usually locked into a specific flight time if you want to be in a specific price range.
Article continues below advertisement
OK!: What's your number one tip for people who want to travel on a budget?
The way that you set up your budget it really all depends on flights. So whenever you're planning on booking a trip you have to look for flights first. And in order to get the cheapest flight, you have to be open-minded. Skyscanner is great because you can put in everywhere as the destination, with your dates, and it will show you the cheapest places you can travel for that weekend. So that's a good way to start the budgeting process and if you're open-minded and you're willing to go virtually anywhere in the world that's the best place to start.
There's a lot more variability and options when it comes to accommodations because of things like Airbnb so that's why setting up flights first is my best budget trick.
OK!: What's one of the cheapest trips you've ever taken?
I landed a good deal on a St. Thomas trip where basically for four days, flights, and hotels it was about $500! That was an off-season trip, which is another good budget trick.
Not all places that are in the off-season are bad places to go to. People use to tell me not to go to Barcelona in the winter because there's nothing to do, but when I went it was actually amazing in the winter.
Article continues below advertisement
When I went to St. Thomas for $500 it was in the summer and that's typically the off-season there because it's so hot. But we went and it was perfect, beautiful and incredibly cheap. The food was cheap, the transportation was cheap, and you could island hop for $20.
OK!: What do you say to those who think they don't have enough time to travel, or that a weekend is too short to really see a city?
Weekend travel is definitely a style of travel. The most important distinction that people have to understand is there's a difference between traveling and vacationing. For a weekend trip, I am constantly on my feet. I am constantly exploring. I'm always sightseeing, there's no such thing as sleeping in on a long weekend trip. Even if I'm on an island vacation I still want to be doing something. So I think that's the distinction that has to be made. If your mentality is to sleep until twelve, have a nice long lunch, then perhaps the long weekend trip is not for you.
The reality is I've spoken to people that were in the same places that I was in for a week or ten days and we got pretty much the same amount of stuff done and I got it done in four days.
OK!: What have been some of your favorite trips?
I went to Cuba in December and that was my favorite, and I took more than 20 trips last year. It was so authentic, the people are happy, genuine and hardworking. I loved it.
I liked Iceland a lot for the authenticity as well; it was like being in a different world.
Those two trips are definitely my favorites.
You can read more about Elona's journeys and get more travel tips on her blog, "Elona The Explorer."