NEWS
OK! Exclusive: Brad's New Orleans Plan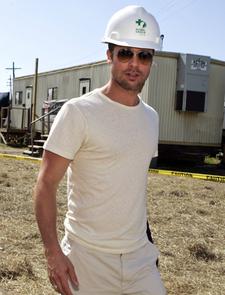 Since the news broke that Hurricane Gustav was set to hit New Orleans over the Labor Day weekend, many have been wondering where two of the city's star residents and biggest rebuilding proponents — Brad Pitt and Angelina Jolie — have been.
To get to the bottom of the story, OK! spoke with Virginia Miller from the Make It Right Foundation, an orginization Brad has worked closely with in recent years, helping to bring sustainable and affordable housing back to the lower income portions of New Orleans that were ravaged by 2005's Hurricane Katrina.
Article continues below advertisement
According to Ms. Miller, Brad is definitely planning a trip soon to New Orleans, where he and Angelina have set up a home with their six children in the city's French quarter. In fact, Miller tells OK!, Brad had actually been talking to her about coming down before Gustav ripped into town on Monday.
Miller tells OK! she hasn't had a chance to speak to Brad in the last few days, and it will be at least a few days before the actor could make his way into town, as no one is currently being allowed in or out of the area.
As for the newly built and under-construction homes that Brad has made such a high-profile priority of his, Miller is happy to report to OK! that these buildings, located in the city's 9th Ward, appear to be okay as that area wasn't too severly hit by Gustav's category 3 winds and rain.
Last December, when Brad appeared on the Today Show to talk about his work in New Orleans with the Make It Right foundation, he said it "is more fulfilling than any movie I've ever done."