NEWS
OK! Exclusive: Brit & Adnan Back Together!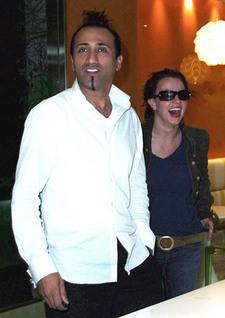 Even though Britney Spears appeared to be rid of her photographer beau Adnan Ghalib, OK! can exclusively confirm that the troubled singer has rekindled her romance with the former paparazzo.
This news comes after sources confirm to OK! that not only have Britney and her legal team called an emergency hearing for Wednesday morning at L.A. Superior Court, but that the embattled pop star has agreed to undergo a psychiatric evaluation. Brit has refused several times in the past to an evaluation, and is agreeing only on the grounds that she be allowed to visit with her boys, Sean Preston and Jayden James, during the evaluation. Brit is reportedly asking that the visitation be court-supervised and that it take place in a "therapeutic environment."
Article continues below advertisement
But until she has her boys back in her arms, it looks like she'll be hugging Adnan. Around 6 p.m. PT on Tuesday, the pair were spotted leaving Taverna Tony's restaurant in Malibu. Hand-in-hand, they jumped into Britney's white Mercedes and off down the coast back toward L.A., smooching all the while. Around 6:40 p.m. PT, Brit and Adnan, whose wife recently reportedly filed for a separation, popped into a Pinkberry in Beverly Hills to grab some frozen treats.
Meanwhile, as of 7:30 p.m. PT, Brit and Adnan have been holed up on the 8th floor of the Beverly Wilshire Hotel in Beverly Hills. Perhaps the pair were watching Adnan on TV. This afternoon, Brit's on-off was interviewed on Entertainment Tonight, where he admitted that at the time of the taping, Britney was not aware he was doing the interview.