NEWS
OK! Exclusive: Brittany Snow's Post-Anorexia Diet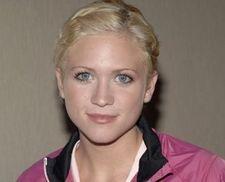 After recently making headlines for confessing her long struggle with eating disorders and cutting, took some time out of her schedule to talk to OK! about how she manages to keep her life in order and stay physically fit.
"Pilates!" the 21-year-old revealed to OK! at an event in NYC to promote the partnership between Reebok and the Avon Foundation to sponsor the 2008 Avon Walk Around the World for Breast Cancer. "It feels so good; I love the breathing and it helps my back problems. It's actually something I look forward to doing."
Article continues below advertisement
However, the adorable Hairspray star hasn't given up on more traditional forms of exercise. "Of course, I still love going to the gym with my girlfriends," she explains to OK!. "I love working out and I love running, but I only do that probably three times a week."
As for her eating habits, Brittany tells OK! that she doesn't like to think of it as a "diet." "It's kind of like eating foods that I know aren't going to talk to me after I eat them," the actress explains. "If I eat a piece of pizza and afterwards I'm like, 'Oh my God, I can't believe I ate that!' I know ahead of time and I'm not going to eat it."
Brittany says that it all comes down to "loving things I can feel good about... I definitely had a chocolate bar on the plane last night because I wanted to — and it didn't really matter. I try to eat healthy, but at the end of the day you only live once."
By Karen Berg