NEWS
OK! Exclusive: Criss Angel Opens Up About Britney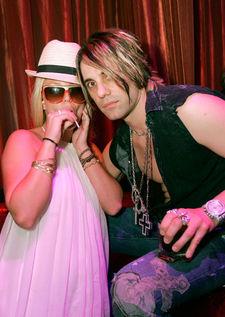 In the weeks leading up to Britney Spears' disastrous performance at the MTV Video Music Awards, rock-star illusionist Criss Angel was not only linked romantically to the beleaguered pop star, he was supposed to be working with her to create a true stage extravaganza for her first televised performance in years.
But, like one of Criss' infamous illusions, when Britney took the stage that fateful night, he seemed to do a vanishing act. And now, weeks later, the Mind Freak star talks to OK! to clear the air.
Article continues below advertisement
"We were supposed to do a creation of stuff that we worked on and it took a lot of dedication and work to do the things that we wanted to do," Criss, on the set of his new NBC series Phenomenon, recalls exclusively to OK! about Britney's planned VMA performance. "Unfortunately for me, she didn't really want to put forth that type of effort."
Criss, who has also been romantically linked to stars Cameron Diaz and Minnie Driver tells OK! that he just wanted what was best for Britney. "Basically I said, 'Don't worry about me. Do what you want to do. This is a big opportunity for you to do the VMAs, so if you don't feel it, go with something else.' And she chose to go with something else."
As for reports that their backstage differences had ruined their friendship, Criss tells OK!, "We're still friends and everything's cool."
By Jon Warech