NEWS
OK! Exclusive: A Full House Dinner Date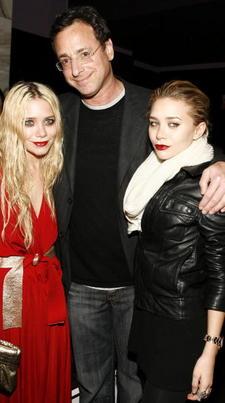 It was a full house on Dec. 12 at the Bowery Hotel when none other than the Tanner family clan came in to play!
Mary-Kate and Ashley Olsen, John Stamos and Bob Saget gathered at the New York City hotel at 11:30 p.m. and headed straight for a table for four to satiate Ashley's grumbling stomach, an eyewitness tells OK!.
"I'm starving!" Ashley, 21, proclaimed immediately upon greeting her former co-stars, causing her TV dad to placate, "Whatever you want, you can get."
Article continues below advertisement
While Ashley, sipping on a glass of red wine, hustled her family into the main dining room, her sis, clad in a green silk caftan and flats, hung back to chat with Uncle Jesse and socialite pal Derek Blasberg with a Heineken in hand before joining her crew.
"They were having a blast!" the source tells OK!. "Ashley was sucking down a plate of spaghetti bolognese and laughing like a 60-year-old man!"
That's possibly from funnyman Bob, who had the whole table in an uproar — even interrupting a deep 10-minute conversation between Mary-Kate and John, the eyewitness says. Intense!