NEWS
OK! EXCLUSIVE: Hilary Duff Talks Life After Honeymoon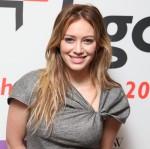 AT BGC Charity Day recently, Hilary Duff made a special stop in NYC to help out for her charity "Blessings in a Backpack." She chatted for a few minutes with OK! to give an update on her life now that she's married to hockey star Mike Comrie.
OK! EXCLUSIVE GALLERY: HILARY DUFF'S HONEYMOON!
What's changed now that you're married?
Oh, goodness, not that much actually. It's nice that everything's fallen back into the normal daily routines of our life. Mike's actually left now, he's in Pittsburgh.
Article continues below advertisement
What was your favorite part of the honeymoon?
Eating. I just ate a lot. You know we just had a good time together, it was me and him, obviously. Just before he had left it was nice to take those few days and eat and hang out on the beach and be in a beautiful home. That's it. I think it was pretty much just like everybody else's honeymoon.
You're so young, but do you have any baby plans?
We don't. We definitely want kids but, it's funny I read on the internet all the time that I'm like ready for a baby and I can't wait. It's just not true, I'll just leave it be, we'd be very happy but not trying right now.
OK! EXCLUSIVE GALLERY: HILARY & MIKE'S GORGEOUS WEDDING SETTING!
What do you have next in terms of work? We know you have a book!
My book! Yes, so I'm getting ready to go on my book tour, I think October 7 and it will be for about two weeks and I'm going to come back home and start writing again so I think I have to have the second book finished by December or January. It's going to be a little bit of a rush but I'm excited. I have lots of ideas for the follow-up book and I think it will be good. I'm excited for people to see what I've done and it's so different from what I've done before and I think it will be unexpected.
Article continues below advertisement
Are you going to move to Pittsburgh?
I'm not, no, I'm not moving to Pittsburgh but I'm sure I'm going to be there a lot. I have such a busy life in L.A. and four dogs and my family's there and my work. I'll be doing a lot of commuting I'm sure.
Are you like a mom to your dogs?
Yes. It's sick, actually. It's a really big problem. Because I can't be away from them for like more than a few days and I feel really guilty and then even when I come home they're mad at me and looking at me like, 'You left us, Mom.' It's a big responsibility having four dogs. I feel like a mom.
OK! COVER STORY: HILARY DUFF'S DREAM WEDDING!
How did you get involved in your charity?
I started it with a man named Stan Curtis who is so amazing and has such a vision and a goal for feeding children. And now I think we're in 203 schools and we fill backpacks full of food and send underprivileged children home on the weekends with backpacks full of food.
When do you start it?
About four years ago.
Oh wow, so it's really accomplished now.
Yeah, it is. I think we're like feeding 37,000 kids each weekend and we're in like 24 different states and it's growing, so that's exciting. Getting to be a part of this day is amazing and what this company does is really huge and really life changing for so many young people's lives that are in need.
By Rachel Levine