NEWS
OK! Exclusive: Inside Britney's Diva-Licious Birthday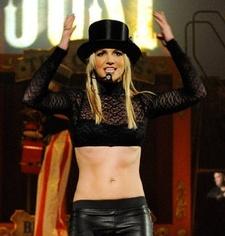 Is Britney Spears starting to crack under the pressure?
Following a pair of performances on Good Morning America on Tuesday morning, the superstar birthday girl was back to her some of her old diva tricks as she arrived more than an hour late to shoot her pre-taped segment for the annual Christmas tree lighting ceremony at NYC's Rockefeller Center.
"You have no idea how many times Britney has changed things on us, at least 14 times since I got here on Thursday," a source connected to the TV special tells OK!. "It is Britney Spears and she can do that because they want her to boost ratings, but no one is happy putting up with this. I probably shouldn't say this, but guys on the crew were making bets about whether she would show up at all."
Article continues below advertisement
One eyewitness tells OK! that Britney had been scheduled to appear live on Wednesday night's broadcast, but that plan was ultimately scrapped in favor of a pre-taped "message."
"She was originally supposed to perform live and then she wanted to pre-tape her performance instead," the source says. "Then she didn't want to do that. She keeps changing her mind and now she's not performing at all."
Article continues below advertisement
Article continues below advertisement
The club itself was transformed into a mini circus for the night. The ceiling of Tenjune looked like the inside of a circus tent; there were popcorn machines that said "Britney Spears;" a ringmaster on stilts stood at the front of the club, while jugglers and gymnasts wandered about. All of the cocktail waitresses wore top hats resembling the one Britney wears in the "Circus" video.
Brit arrived at Tenjune around 11pm and the entire crowd at Tenjune sang "Happy Birthday" to her while she stood on stage smiling. Around midnight, three people carried out the huge cake out for the birthday girl.
Article continues below advertisement
The pop star spent the early part of the evening dancing and chatting with her crew of dancers in the back room of Tenjune, but after the clock struck midnight it was time for her to hit the club's main dance floor.
"She was laughing and grinding with her friends," one partygoer tells OK!. "The bodyguards formed a circle around her and she danced with her assistant and dancers. She was tossing her hair that had fallen out of a bun and really getting into the music and having a good time."
For the full story on Britney's struggle to maintain a normal life, pick up the next issue of OK! — on sale everwhere Thursday!
By Laura Lane