NEWS
OK! EXCLUSIVE: Inside Heidi & Spencer's Twisted Marriage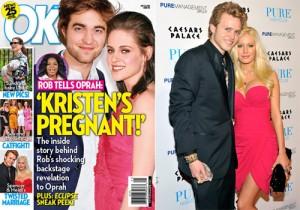 It's no secret that The Hills stars Spencer Pratt and Heidi Montag put their need for fame and money before everything else. Now, on the verge of Heidi's 13th plastic surgery, OK!'s takes a look into their twisted marriage.
Heidi's recent revelation that she plans to undergo her 13th major plastic surgery has her family and friends reeling. Aghast that Heidi, 23, would risk her life by going under the knife for her third breast augmentation, they're blaming her husband, Spencer, for exploiting Heidi's insecurity and encouraging her to have surgeries for publicity.
Article continues below advertisement
OK! NEWS: HEIDI MONTAG CALLS COPS ON HER MOM
"I always used to think of Heidi as independent, but she's become Spencer's little blonde puppet," says a Hills insider and former friend of Heidi. "Here she was, a smart, beautiful girl, and she's changed herself so much that she's almost unrecognizable."
Spencer, 26, insists that he is opposed to her surgeries.
"I'm not in charge of anything she does with any part of her body. I'm her husband — not her owner," he said after she underwent 10 plastic surgery procedures in one day.
But insiders say Spencer has manipulated every other part of Heidi's life from the day they met, so it seems likely that he could talk her out of more surgery if he really wanted to.
"Spencer has a knack for figuring out someone's weaknesses and exploiting them. He knows how to push Heidi's buttons," says the friend. "She's wrapped around his finger. She does whatever Spencer wants her to do."
Article continues below advertisement
In addition to enabling Heidi's plastic surgery obsession, the friend accuses Spencer of isolating Heidi from her family and friends — who might have been able to reason with her — to keep her under his control.
"He made Heidi give up all her friends for him. He even made her pick between her family and him," says the friend. "I have seen Heidi cry because she doesn't know what to do. But everyone who has tried to intervene gets cut from her life."
Adds another source, "Spencer's nuts. He picks fights with friends and family because he thinks everyone has 'bad energy.' "