NEWS
OK! EXCLUSIVE: Jake Pavelka Denies Gay Rumors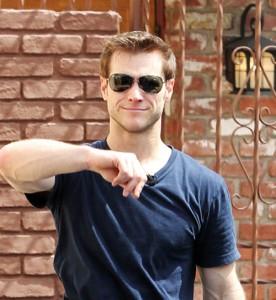 Since his highly-publicized split from Vienna Girardi, reports on Jake Pavelka's romantic past have led to rumors about the former Bachelor's sexuality. A close friend of the TV personality opens up to OK! exclusively about Jake, dismissing particular claims made by a celebrity entertainment magazine stating the reality star may be gay. The story claims Jake became very close with fellow Bachelorette contestant Juan Barbieri while taping the show (Jillian Harris's season), and Juan took Jake to a gay hotspot Mickey's in West Hollywood in mid May-2009.
Article continues below advertisement
"Jake has never even heard of Mickey's, let alone been there," a close friend of Jake's tells OK! exclusively. "He has no problem going to a gay bar as a straight man. He has friends from all different places with different backgrounds, but this story is simply not true."
The source adds that the only time Jake has been seen with Juan was on The Bachelorette set.
"They're not even friends," the insider continues.
In another bogus story regarding Jake's romantic past, his ex-girlfriend Tanya Douglas claims Jake was still dating her during his time as The Bachelor.
"She's angry and disgruntled because Jake broke her heart, but it simply was not meant to be," Jake's pal explains. "They were completely broken up before he went on to do The Bachelor, and friends and family can vouch for that."
Article continues below advertisement
According to our source, Jake was looking for any reason to end his relationship with Tanya.
"She came with way too much baggage and sadly enough, she would get physically abusive with him," the insider adds. "When she would hit him, he would get up and leave and tried to think of reasons that she would understand to leave her. He thought she was an absolute lunatic."