NEWS
OK! Exclusive: Jamie Lynn Fights Miscarriage Rumors!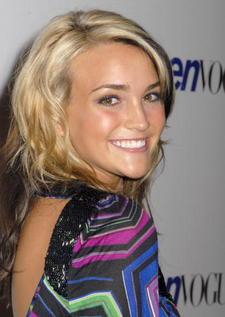 Despite reports that Jamie Lynn Spears has been rushed to the hospital due to pregnancy complications, a spokeperson for the 16-year-old is talking exclusively to OK! to deny the scandalous rumor.
"Contrary to rumors, Jamie Lynn Spears has not been rushed to the hospital nor has she suffered a miscarriage," the Zoey 101 star's rep tells OK!. "She is healthy and at home with her mother."
Jamie Lynn, younger sister of beleaguered pop star Britney Spears, is expecting her first child with longtime boyfriend Casey Aldridge later this year. She revealed her surprise pregnancy in December in an , in which she vowed to take responsiblity for her actions and her baby because "I put myself in this position, an adult position."
Article continues below advertisement
"I have really become at peace with the whole situation, and I think it's the right thing for me to do," she continued. "It's a personal decision that everyone would have to make for themselves. This one is just right for me."
Since her shocking announcement, Jamie Lynn has returned home to Louisiana, where she was spotted exiting the Adult Education Center with a GED book in hand alongside mom Lynne, to whom the pregnancy has brought her closer.
"It's good to be able to have somebody who no matter what you do is always going to be there for you, who will never walk out," she tells OK!. "It's really good to have that."