NEWS
OK! Exclusive: Lindsay Dumps Dina!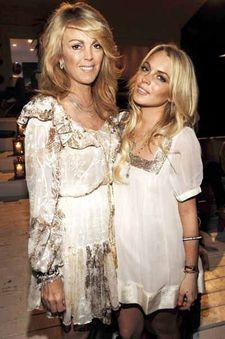 It's official: Lindsay Lohan is cleaning house, and she's doing so by removing the negative influences from her life — starting with her #1 enabler: her mother, Dina!
In her first interview after leaving rehab, Lindsay spoke exclusively to OK! to say she was cutting out former party pals like Samantha Ronson and Britney Spears. But sources reveal to OK! that the 21-year-old actress didn't stop there.
Article continues below advertisement
"Lindsay fired Dina as her manager," an insider revealed. "She is livid about all this press her mom is doing on this NYC apartment that she'll never even live in; Dina even gave Access Hollywood a tour of the apartment two nights ago."
"I am doing my best to surround myself with good people who have their hearts and minds in the right places," Lindsay told OK! "That's what I plan on doing." Dina, apparently, is not one of those people. The elder Lohan has long been under fire for taking on the role of party pal as opposed to mother, and picking loser roles for Lindsay as her manager in films like Just My Luck and Herbie: Fully Loaded. That's right – blink and you missed them. Thus are the results of bad motherly and manger advice.
What will become of Dina without Lindsay to fall back on as her bread and butter? Dina recently made Lindsay a sacrificial lamb when she signed a six-episode reality show deal for E! by promising that Lindsay would star alongside her. "No one wants Dina without Lindsay" the source told OK! flatly. "They tolerate her simply to get to Lindsay – the REAL star in the family. When Lindsay found out about the show, she went mad at her mother. She is upset her mom would use her name and sign off on paperwork involving her career without even consulting her. The two haven't even spoken in weeks except to fight."
As Lindsay weeds out the negativity in her life, one can only hope she's truly on the path to recovery. As she told OK!, "Everything is different when you have a clear mind and focus on the right things."
Are you listening, Dina?