NEWS
OK! EXCLUSIVE: Lindsay Lohan Already Ditching Court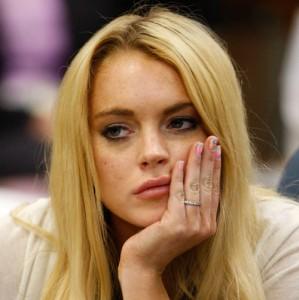 Lindsay Lohan is back to her old tricks, only 24 hours after her release from rehab! Lindsay has decided not to attend her court hearing today in L.A., which is set to determine the new rules of her probation. "She's not showing," Sheriff Byron Green tells OK! exclusively.
"That's what we were told anyway," Sheriff Green adds. "Then again, anything can happen."
Lindsay's camp will meet in the courtroom to finalize the new parameters of her probation.
Article continues below advertisement
Her lawyer, Shawn Chapman Holley, is set to propose three main issues to Judge Elden Fox on behalf of her client — no random drug testing, outpatient therapy only and permission to leave the state, so LiLo can work on a film in NYC.
Also, the findings from Lindsay's UCLA doctors will be read in open court, giving the 24-year-old starlet a clean bill of health.
OK! EXCLUSIVE: LINDSAY LOHAN RELEASED FROM REHAB
Lindsay was released Tuesday night from her court-ordered rehabilitation at UCLA Medical Center in L.A., where she began treatment on Aug. 2 — a short stay from the original 90 days ordered by Judge Marsha Revel at LiLo's sentencing.
Samantha Ronson and Lindsay's assistant were ready and prepared for the starlet's secret release from rehab, on hand for support and to help throw off the media firestorm.
Article continues below advertisement
Lindsay's release seemed to go off without a hitch, as she successfully left UCLA without being followed.
"At about 10:30pm, Sam left Lohan's apartment and drove the wrong way on Sunset Blvd. to lose the paparazzi," another Lindsay source tells OK!. "Very dangerous, but it worked."
Lindsay's hearing is scheduled to begin at 11:30 a.m. ET, 8:30 a.m. PT. Stay tuned for Judge Elden Fox's ruling.