NEWS
OK! Exclusive: Lindsay & Riley Not Over?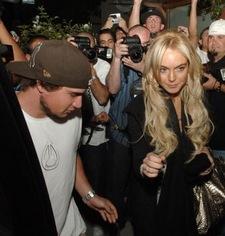 While the end of the relationship between Lindsay Lohan and snowboarding former beau Riley Giles didn't come as a shock to many who have followed the young star's roller-coaster romantic life, it may surprise some to learn that the pair are not only still on speaking terms, they still spend time with each other.
"Lindsay still talks and hangs out with Riley," a source close to the 21-year-old actress reveals to OK!, before adding cautiously, "but they're not 'together. He will go over to her place to watch movies... that kind of thing."
Article continues below advertisement
In fact, OK! has learned that during a recent trip to the salon, La Lohan spent the entire time — nearly six hours, according to a witness — sending text messages back and forth to her former squeeze.
As for what caused the split in the first place, the source explains, "They broke up because Riley couldn't take all the publicity." So what about the story about Riley proposing to his ex-girlfriend? "He never asked that girl to marry him," claims the source.
Time will only tell if this ex-couple can rekindle their flame.