NEWS
OK! Exclusive: Mark Indelicato's Fashion Week Diary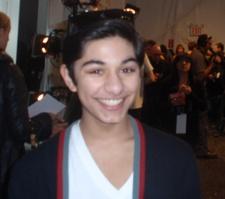 As a special treat for NY Fashion Week, Ugly Betty's Mark Indelicato has volunteered to take OK!'s readers inside the exclusive, celeb-filled shows and share his personal thoughts and photos!
Tuesday, Feb. 17:
This morning I woke up early and went to Badgley Mischka. They were on Ugly Betty before but I didn't get to meet them so I was looking forward to this. It was definitely my favorite show so far. Christian Siriano will have to really wow me to top this since it's the only show I have left to go to!
Article continues below advertisement
(me with Mark Badgley and James Mischka)
I was with my friend Mia this time. I like to bring my friends to these things because it's not only fun but — between work and school and family — it's somtimes tough for me to see my friends.
(with Mia at Badgley Mischka)
So we entered through the backstage and were brought right to the designers. I couldn't believe how calm and collected they seemed just minutes before their big show!
After that we went to our front row seats, passing some Kardashians, cast members of 90210, Kellie Pickler and then sat next to Kat DeLuna. We took some fun photos together and then the show started.
I wish they made a men's line. Everything was beautiful. When the show was over we went backstage one more time to take some more photos, took a peek in the W Lounge, where they hooked me and Mia up with some sweet sunglasses, and then left for some breakfast.
Article continues below advertisement
(talking to some TV reporters between shows)
In the evening, I headed back to my new home away from home, Bryant Park, to help host a story for the Associated Press. We went up to the American Express Skybox where I got to interview stylist Kate Nobelius. The lounge is neat because you can watch shows from a birds eyeview. I really liked the orange couches Jonathan Adler used to design it in there.
(me in the American Express Skybox)
Then I headed backstage to interview Max Azria. He is such a nice person. When he found out how old I was — and it's so close to his daughter's age — he got so excited and offered to give me her information to have lunch the next time I'm in L.A.
After fighting through the crowd of paparazzi surrounding Alicia Keys, Tinsley Mortimer, Joy Bryant, Rachel Bilson, Rob Thomas and others, I got to my seat and enjoyed the show.
Article continues below advertisement
(in the front row at Max Azria)
Monday, Feb. 16:
Today was another great day! We got started by checking out the Z Zegna show, where I sat next to Tyrese. I really enjoyed the collection, and I was especially impressed by the outerwear and sweaters I saw. The show itself was very cool — they slicked down the runway with water and spritzed all the models so it looked like they'd just come in from out of the rain! After the show, I had the chance to actually head backstage to meet the designer, which was very cool.
Then I headed across the street to the alice + oliva store, where I met actress Byrdie Bell, who was sweet enough to stop and pose for a pic with me, and also ran into Julia Stiles, Kristen Bell, Paris Hilton and her sister Nicky.
(me & Byrdie at alice + oliva)
It was cute — they had Byrdie and some other girls walking around showing off the clothes, but it was super crowded and I had to run back to the tents to check out Justin Timberlake's William Rast show, so I couldn't stay long.
Article continues below advertisement
Speaking of William Rast, the show was a lot of fun! I sat across from his girlfriend, Jessica Biel, who was so interested in the clothes... it was nice to see. I got to sit with my fellow Ugly Betty cast member, Becki Newton, and the editors from Elle.
We all enjoyed the show a lot. Unfortunately, it was such a madhouse backstage afterward that I decided to just head on home and rest up for tomorrow. On my way out, I met a bunch of fans, which is always so nice!
Friday, Feb. 13:
Kicked off Fashion Week by checking out some shows with my friend Hannah from school. He was with his school friend Hannah Ammon.
We'd barely gotten started when we bumped into Jack Mackenroth from Project Runway:
Turns out he's just as much an Ugly Betty fan as I am of him!
After chatting and taking some pics with Jack, we all headed in to see the Duckie Brown show, where Hannah and I got to sit in the front row. There were a few things I spotted during the show that I'm putting on my shopping list for the fall!
Of course, I know you don't always need to spend a ton of money to be stylish. I was very proud to show off my Hanes V-neck white tee, not to mention by trusty pair of Chuck Taylors!
I can't wait for all the shows coming up in the next week, and to share them all with you!