NEWS
OK! Exclusive: MTV's Nikki & Sara on the (Surprisingly!) Most Normal Celeb They've Encountered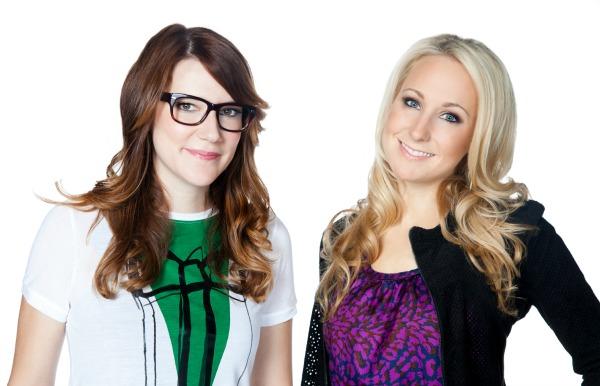 It's here! Season 2 of MTV's Nikki and Sara LIVE airs tonight (Tuesday) at 11 p.m. ET and I know I can't wait. So I sat down with the lovely ladies to get some inside info on what we'll be seeing this season on the show and of course, celebs. Specifically: the one that is most down to Earth (although might not dress that way), the one that didn't want to leave their show, and the ones that will always influence them.
Article continues below advertisement
Watch: Sinqua Walls (Boyd!) talks MTV's Teen Wolf
OK!: What did you learn in season 1 that you'll apply in season 2?
Sara Schaefer: I learned to trust our process. It's going to be funny. To believe in us and what we've already learned. We can do this.
Nikki Glaser: I've learned that the stars are just like us. Well some of them are. Some of them are super personable and as soon as you meet them you're like "Oh I want to be friends with this person, this is just a real girl". Like Ke$ha for example. Someone you wouldn't expect to be down to earth, and there are others that aren't so much and you learn how to handle both types of celebrities and that's something we know now.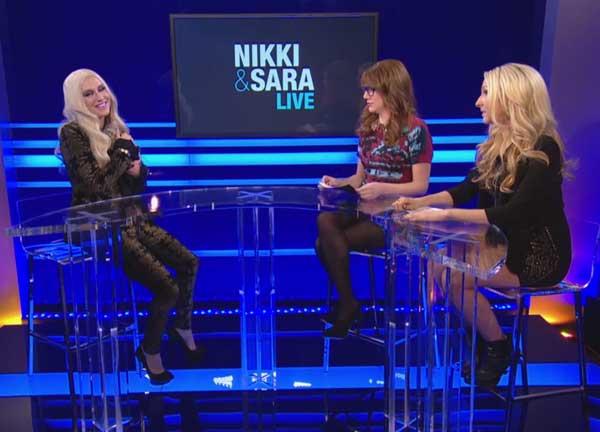 OK!: Was there anyone that surprised you like Ke$ha who was unexpectedly really cool?
SS: She was definitely one of them. Crazy outfit but really real person.
NG: She seems very high maintenance but wasn't.
SS: She was cool. She just likes to dress crazy. She's down for whatever.
NG: Also Olly Murs. I didn't really know of him and then he came in and hung out. He didn't want to leave. He had a lot of fun and that's so flattering. That happens a lot where people come in and they're like "wow this was one of the most fun shows I've ever done" and that's like music to our ears.
Article continues below advertisement
SS: I love it when we get the comment "wow you guys are funny." Like they didn't expect it. I think they come in thinking we're going to be these dopey robot hosts so they're surprised we go for it.
OK! News: Hot new tunes to listen to this week
OK!: Anything you have planned for this season that you can't believe you're doing, but can't wait for people to see it?
NG: Well, the first sketch in our premiere is something we're really excited about. We're doing our take of the "Blurred Lines" video.
SS: I also am excited about some of the bigger picture ideas we have. We're going to bring in a few guests in addition to the typical celebrity. We're thinking of bringing on YouTube stars. Not viral video stars but people with huge followings on YouTube that have their own web series and giving them a chance to be on a talk show.
OK!: A lot of people know them more than they know certain celebrities.
SS: I know! That's why we're like this is an underserved world of talent and they need a chance.
NG: As much as TV has gone the way of going to the Internet, we want to bring the Internet back to TV.
OK!: What has Times Square taught you guys about life, the show, yourselves and humans?
SS: Oh God. People who are not from the city move very slowly. They move very, very slowly in large groups and just get in your way.
NG: It's weird working in Times Square and having to cut through all that to get to your office. It's a surreal place to work.
Photos: What was your very first album?
OK!: Any talk show inspirations? Do you feel like you guys did homework and have you gotten any advice from anyone you watch closely?
NG: We both grew up watching late night talk shows and I look at Conan and Jimmy Kimmel. I like the way Kimmel does interviews. He's very personable and it seems like a show you just want to go hang out at. And Conan I feel has just raised the bar in terms of weird comedy that I really appreciate.
SS: I've kind of been thinking outside of the big talk shows. I love them all and will sample them but I've been watching W. Kamau Bell and he's someone I feel is a peer and finding his way in the late night world. I've been checking out the comedy/talk shows all around and of course Kathie Lee and Hoda which is the only late night show happening during the day and I love it.
OK!: They show it at like 2am too.
SS: Yes it repeats! It's hilarious. I love them. I am definitely influenced by them.
NG: Their chemistry is really great.
SS: The way they roll through topics, you get to know them and learn what's happening in the news, which is a great combo. You feel comfortable watching them.
Guess what Nikki & Sara? I feel comfortable watching YOU! And I can't wait to do so tonight on Nikki & Sara LIVE at 11 p.m. ET on MTV!
What celeb do you want to see on Nikki and Sara LIVE? Tell us in the comments below or on Twitter @OKMagazine.