NEWS
OK! Exclusive: New Style Hits TV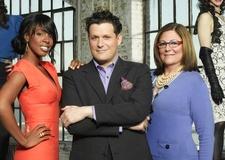 Jonesing for the latest fashions? Can't wait for your latest dose of reality TV drama?
Enter The Fashion Show, set to premiere on Bravo on May 7.
OK! can exclusively reveal that the newest judges to join the ranks of reality fashion critics are acclaimed designer Isaac Mizrahi and stylish four-time Grammy Award-winning singer Kelly Rowland. The pair will be joined on the new series by Senior VP of IMG Fashion, Fern Mallis (a.k.a. the brains behind NYC's famed Fashion Week).
Article continues below advertisement
On this latest tussle with unwieldy fabric and pricking needles, 15 designers will battle it out for $125,000 and a chance to have their creations sold in retail stores. Not bad, eh?
Go toBravoTV.com to learn more about the cast and yune in on May 7 at 10 p.m. to see if the new designers will make it in the fashion world.