NEWS
OK! Exclusive: The Olsens Meet the Trollsens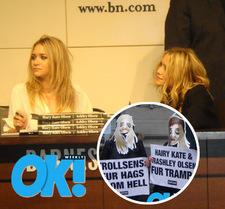 At a book signing inside a Manhattan Barnes & Noble today for their new literary tome, Influence, Mary-Kate and Ashley Olsen had some very familiar protesting company – PETA's "Trollsen Twins," who are against the twins' use of fur in their wadrobe.
Bearing signs that read "Trollsens Fur Hags From Hell" and "Hairy Kate & Ashley Olsen: Fur Tramps," the duo wore ugly paper masks designed by PETA, which have sold out online.
Article continues below advertisement
"PETA has launched an online campaign, our Trollsen Twins Campaign, to raise awareness about how animals are treated on fur farms," says Ashley Byrne, PETA's campaign coordinator. "They're being confined to tiny cages their whole lives and being killed by methods including suffocation and electrocution."
While Byrne admits that the real Olsens might not have seen their doppelgangers on their way in to the store, she says they're very aware of their presence.
"They can hustle in the back of a book signing and they can avoid these PETA protesters, a lot of who grew up being fans," she tells OK!. "But they really can't avoid the fact that when they make these ugly decisions, it shows and it turns off their fans."
(OK! Exclusive Photo)
As for Mary-Kate and Ashley themselves, Byrne says the masks are not intended to convey that the twins themselves are ugly, but only their actions.
"It's that we think wearing fur is really an ugly choice inside and outside," she explains. "True beauty does start from the inside so if you're making ugly, cruel decisions that shows."
By Laura Lane