NEWS
OK! Exclusive: Shirley MacLaine Talks Chanel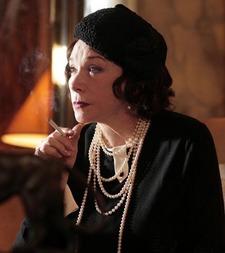 In the Lifetime Original Movie, Coco Chanel, Shirley MacLaine plays the iconic fashionista who's name became synonomous with the little tailored suit. Hers are tough shoes to fill, but Shirley is no amateur. A legendary actress in her own right, she tells OK!, what it was like to play the original queen of fashion.
Of the first time she ever heard Coco Chanel's name, Shirley says, "I was apparently at a collection of hers and I was in my middle to late 20s. Someone found a picture of me on the Internet in a showroom. I remember being so impressed by the comfort of her clothes, and then I saw the price tag!"
Article continues below advertisement
Coco had a reputation for being rude and difficult – one that enticed Shirley to play the role. Of the parallels between her own life and Coco's, she says, "Probably creativity. Couldn't live without being creative. I never had the conflict between work creativity and love. I always went with the creativity. I never went with the love. But she, and women, weren't as liberated in those days so that wasn't an option for her."
Speaking of "these days," Shirley says she can't understand how young Hollywood stands "all the red carpet stuff."
"It's ridiculous," she says. "And I thought so then but we weren't required to do it then. I would go to a premiere, say hello to the people, go right to the ladies room and out the back door. Can't do that today. Everybody wants you to wear their clothes. I don't do that."
What actress does Shirley admire today? "Nicole Kidman," she tells OK!. "She's established her sanity and she's a brilliant actress."
Article continues below advertisement
Coco Chanel airs Saturday, Sept. 13 at 8 p.m. on Lifetime.
<!-- /* Style Definitions */ p.MsoNormal, li.MsoNormal, div.MsoNormal {mso-style-parent:""; margin:0in; margin-bottom:.0001pt; mso-pagination:widow-orphan; font-size:12.0pt; font-family:"Times New Roman"; mso-fareast-font-family:"Times New Roman";} @page Section1 {size:8.5in 11.0in; margin:1.0in 1.25in 1.0in 1.25in; mso-header-margin:.5in; mso-footer-margin:.5in; m