NEWS
OK! EXCLUSIVE: Stephen Baldwin Says Miley Cyrus' Performances Are Un-Christian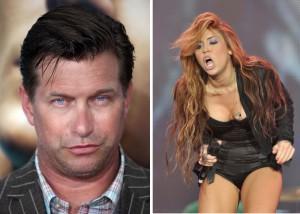 It seems that there's trouble in Hollywood's most unlikely friendship.
We've always had a special fascination with the peculiar bond between Miley Cyrus and Stephen Baldwin — which was once so strong that Stephen had a Hannah Montana logo tattooed on his shoulder. So we're sad to learn that things aren't quite all sweetness and light between the tween sensation and the veteran actor.
Article continues below advertisement
Stephen — a born-again Christian — recently told OK! that he thinks the 16-year-old star's raunchy performances are un-Christian.
OK! NEWS: NO SELENA GOMEZ TATTOO FOR STEPHEN BALDWIN
"I think as a person of faith she needs to calm down a little bit," Stephen told OK! exclusively of the star, who is herself an outspoken Christian. "That pole-dancing and all that, I think that's not very good."
Added the Usual Suspects star: "I'm sure it's not in keeping with her faith."
"I still love her; always will," he said. "But we're just hoping that she chills out a little bit."