NEWS
OK! Exclusive: The Newest DJ Earworm Mashup Will Save Your Life—Literally!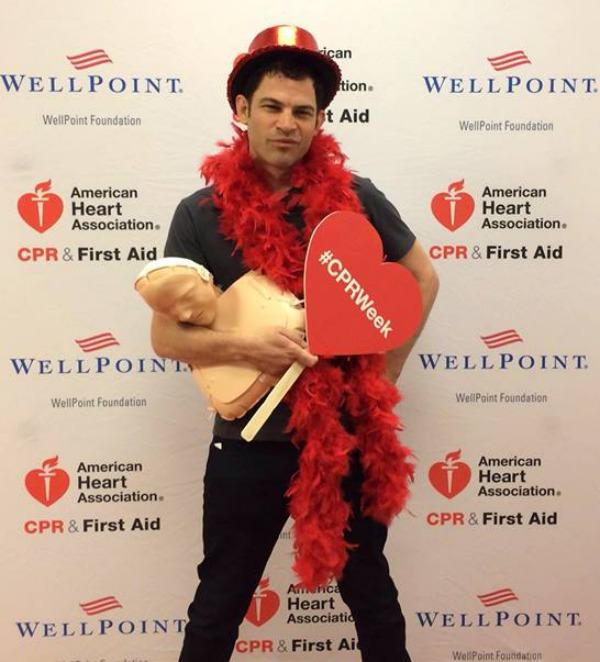 You know and love his United State of Pop end-of-the-year mashups, but DJ Earworm is back with a new one that is saving lives and not just on the dancefloor! He's teamed up with the American Heart Association to create the Hands-Only CPR Mashup which includes some of your favorite songs at a 100 beats per minute tempo, the beat used when performing CPR, in honor of National CPR Awareness week. We caught up with him to find out how this, and many more of his famous mashups, came to be and more!
Article continues below advertisement
PHOTOS: 12 Father's Day gifts to splurge on
OKMagazine.com: Tell us how this mashup came together!
DJ Earworm: I knew that music was a great way to remember the correct pace to administer CPR and so when the American Heart Association approached me with this idea of using a mashup to spread awareness of CPR, I thought it was a great idea. So we hunted down some songs that were of appropriate lyrical content. We used Salt N Pepa 'Push It' and Karmin 'Pulses' and 'Pumpin' Blood' by NoNoNo which all had the right words. We got it at the right tempo for administering CPR which is 100 beats per minute or more and it seemed like a great way to spread the message. The great thing is that the rhythm is memorable and this music will help save a life if a situation happens. We were just at a training session where everyone was pounding the dummies at 100 beats per minute or more and it's great, it's kind of like a dance but you're life saving.
OKMagazine.com: Have you done anything with a specific idea or cause in mind before?
DE: No I haven't. The idea that I could actually use my skills, which have been in the past just for pure entertainment, and the idea that I could actually help to save lives is a great opportunity for me.
WATCH: The cast of Marriage Boot Camp Reality Stars plays The Newlywed Game
OKMagazine.com: How often do you create a different mashup, is it just when the mood strikes, what inspires you?
Article continues below advertisement
DE: Sometimes when the mood strikes, sometimes I have a specific theme I'm working with. I always do the end-of-the-year ones and I just put out one of a whole bunch of songs that are hot right now called 'Mashup For What', which also happens to be 100 beats per minute!
OKMagazine.com: How long does it take you to make a mashup like this?
DE: If I'm really lucky things can happen really quickly but usually I have to play around with it and come back to it. A mashup as it's meant to be can happen in a few days and sometimes some of these more complex ones can take up to a month.
OKMagazine.com: What's your process for the United State of Pop ones at the end of the year? Are you thinking about it and taking notes all year or do you sit down in November and really start to put it together?
DE: I think about it all year long and I'm looking at what's popular and what might make it into the year-end mashup. Then as the fall is approaching I get a little more serious about it and start making sketches and it's sort of a gradual process. Then more songs will come out and I'll adjust my plans accordingly. It's always a different process every year.
Article continues below advertisement
OK! News: Athletes who have complained about their salaries
OKMagazine.com: Have you had artists approach you and ask if you could include one of their songs?
DE: Oh, quite often. The year-end mashup I'm pretty much going by what were the 25 most popular songs, but I've definitely had requests. And I've worked with Annie Lennox, Sean Kingston, Maroon 5 and done a whole bunch of single artist mashups as well.
OKMagazine.com: Well congrats on the new mashup and thanks for making something that can seem scary, now seem easy to do!
DE: If you go to heart.org/handsonlycpr and there's a 60 second training video, people can learn it on their lunch break. Basically it tells you to call 911 if you see an adult or teen collapse and then to administer the chest compression in the center of the chest at at least 100 beats per minute. This could help save someone's live, and it more than double and triples the chance that someone survives. It's so easy and it would be a shame for this situation to happen and you just sit there and wonder. If you haven't gone through the training you need to take action anyway, even if you're unsure of what you're doing, you're going to do more help than harm.
Unless, of course, you're Michael Scott...
vimeo 8084385 w=500 h=331
Which is your favorite DJ Earworm mashup? Tell us in the comments below or on Twitter @OKMagazine.