NEWS
OK! EXCLUSIVE: Tiger Tells Friends His Marriage Is Over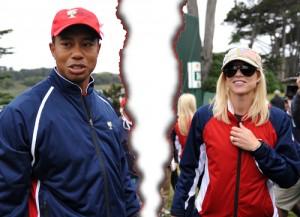 For months now Tiger and Elin Woods have been fighting hard to save their marriage, but lately hope seems to have been fading.
In the past few weeks Elin has been drifting away from her husband, first refusing to join him at the Masters tournament for his return to golf, and then taking their two children — Sam and Charlie — to her native Sweden without him.
Article continues below advertisement
But now OK! has exclusively learned that Tiger has given up on the relationship, and the pair have finally split.
"Tiger and Elin have officially separated," an insider tells OK!. "He's letting her go."
Since it was revealed in November that Tiger had a string of affairs, the couple — who married in 2004 — have tried to rebuild their relationship through couples' therapy, while Tiger famously entered rehab to combat sex addiction.
So why is the split finally happening now?
"He is very sad, but he feels it's selfish to keep her in a situation that makes her feel disgusted, humiliated and defeated everyday," the source explains to OK!.
OK!'s request for comment has not yet been returned.