NEWS
OK! Exclusive: Tom Cruise to Roast Matt Lauer?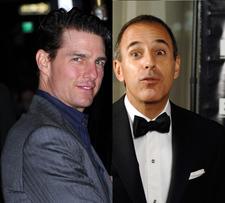 In June 2005, Today Show anchor Matt Lauer took Tom Cruise to task on live TV for the actor's controversial, anti-psychiatry, pro-Scientology beliefs, and in the process created one of the most memorable interviews in the long history of the morning chatfest.
And now, more than three years later, OK! has learned that the Oscar nominee may be getting his revenge by making a surprise appearance at today's Friars Club roast for the NBC star!
Article continues below advertisement
While the Friars Club's official line is that Tom isn't scheduled to be part of the Matt-mocking, insiders continue to tell OK! that a super-surprise appearance by Mr. Katie Holmes is indeed in the works, and that it has been planned for weeks.
So why the change of heart on Tom's part? It may be possible that time does indeed heal all wounds and the Mission: Impossible star is ready to bury the hatchet. After all, in the years since the interview, he has become pals with actress Brooke Shields, whose pro-psychiatry stance was at the center of Matt and Tom's on-air argument.
But... There's also the small matter of Tom's upcoming big-budget war movie, Valkyrie. Some Hollywood insiders are hinting to OK! that the Friars Club appearance may be the first stop in what is intended as a "goodwill tour" of sorts in the weeks leading up to the film's release.
We're just saying...