NEWS
OK! Exclusive: Tori Spelling Takes the High Road in Feud with Mom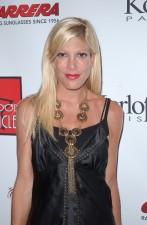 Refreshed from a recent trip to the Four Season's Puta Mita Resort in Mexico, Tori Spelling, accompanied by hubby Dean McDermott, opened up to OK! about her delicate relationship with estranged mother Candy Spelling in an exclusive interview.
"I definitely want to reconcile with my mother, but that's the wrong word," Tori confessed to OK!. "There's nothing that really happened that made us fight. It's just time, distance and media that have come between my mom and me."
Article continues below advertisement
Speaking to OK! at the grand opening of A Hollywood Spectacle earlier this week, Tori explained, "I just think that as long as we both keep it private from here on out, reconciliation is imminent. It will totally happen and I hope that she wants that."
Candy claimed to have e-mailed prior to missing Stella's first birthday party, but Tori was almost brought to tears as she discussed how she holds out hope for her mom to come around for her own children.
"I am proud of my kids, but I also want to make my mom proud of me. I'm still a momma's girl at the heart of the situation," Tori dished to OK!. "I look forward to the relationship that Liam and Stella will have with their grandmother one day and I'm confident that it will happen."
And if Candy calling her daughter a "middle-aged woman" was meant as a put-down, Tori doesn't seem to be taking the comment too seriously. "When you're in your twenties, you can still wear things like this and then I become a mother of two and wear these six-inch Fendi heels and I'm falling all over the place," she joked to OK!.
Article continues below advertisement
All kidding aside, husband Dean spoke candidly about his own relationship with his now-deceased father and how he can relate to his wife's heartbreaking situation.
"I know the hurt because I have gone through it," Dean revealed. "I know what it's like to hold out hope and for it to not pan out and to get your feelings hurt again and again. After a while, at the end of the day, you really have to protect yourself and see that it's not healthy for us… Your family can cause you a lot of pain and heartache."