NEWS
OK! Exclusive: Which Orange Is The New Black Cast Member Is Confident She Would Survive In Prison?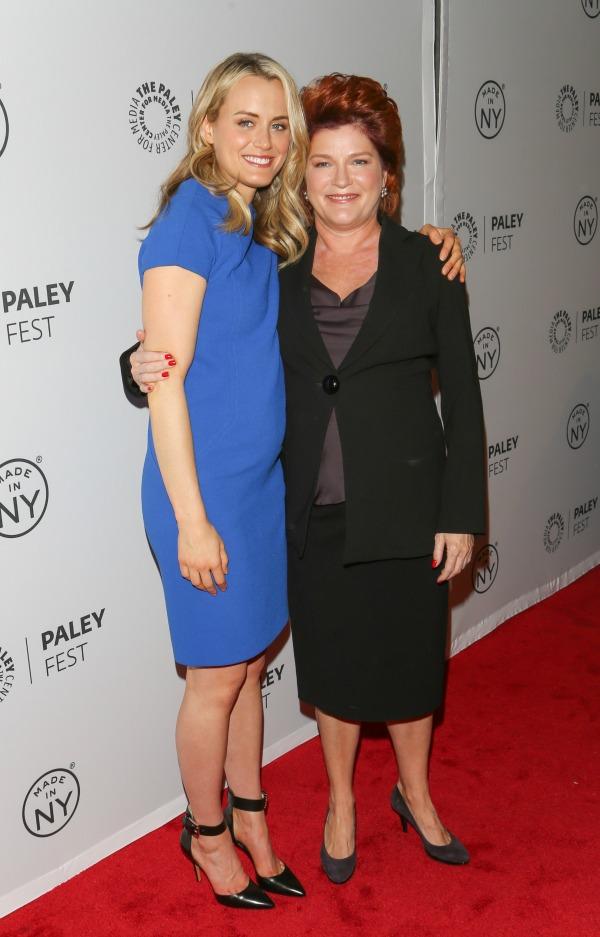 What better way to kick off PaleyFest: Made in NY and really the entire month of October than with a celebration of the buzziest show this year, Orange is the New Black. (Get it? Orange and black, because it's October and Halloween? You got it.) Several cast members gathered at the event to discuss the intense 13 episodes we all consumed in record time, while they are here in New York shooting season two.
Article continues below advertisement
OK! News: Guess which talk show host was homeless?
Now, the entire time I watched this series my anxiety grew. Not just because I started to care for the characters, but I realized with every passing minute I would not make it one day in a prison like this. Probably not even an hour. I just wouldn't. I'm a total weakling. But would these actresses survive like (most) of their characters do? Taylor Schilling who plays the lead actress Piper Chapman agreed with me and said, "I would definitely not make it in prison, I would be eaten alive." Certainly not the case for her character who has made quite the transformation over 13 short hours of brilliant TV. When I pointed out that Piper seems to be heading down a Walter White-type path Taylor agreed, saying "There couldn't be a better comparison. I think that is fascinating. Walter White is a brilliant character on television and to give a woman a chance to go through that much of a transformation and to be that ambiguous would be very exciting." Exciting for both Taylor and all of us watching from the edges of our seats!
Taryn Manning wouldn't last so long in prison either. She reveals "I wouldn't make it. I don't like anything to do with it, I don't even like to camp. I don't like being dirty and stinky, I am the opposite of my character.  I like fresh, nice hair, and fresh hygiene of the mouth. It has definitely changed my perspective as far as going into the judicial system and how unjust it can be. Some people are wrongly convicted or just not convicted properly, or their term doesn't match up to their crime. And then the abuse within—crazy. We hit on a lot of it too, and it's very realistic."
Article continues below advertisement
OK! News: 10 things to know about this season of Scandal
Even the creator of the show Jenji Kohan isn't so confident of her chances inside. "You know I'd have to (make it), but it's certainly not somewhere I want to go at all. After we were doing research, we went to some prisons, and I came home and was ranting to my family like 'You can never go to prison, it's not ok, don't get caught, don't do bad things!' It was very visceral and very scary too. It's really opened my eyes a lot to just how fucked up the system is. It's broken, and there is no rehabilitative aspect, and you forget, especially for women, so many of them are in there for crimes related to the men in their lives and drugs. There has got to be a better way than just caging them. They are human beings and everyone has a story to tell and sometimes it's one mistake one day and you don't have the timing or the luck or whatever it is. I think there are just many fewer hardened criminals than people imagine."
But the lady who knows she would do well in a women's prison? Kate Mulgrew, AKA Red. "I would survive. First of all I love women, and I understand women. I'm not gay, but I love to cook, I want to feed. I think it would be fine."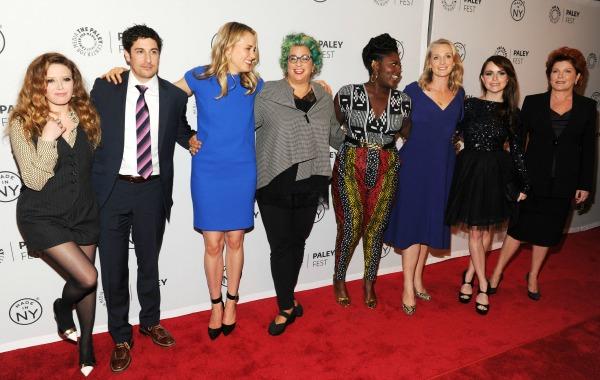 Alright, so we know who would hold their own in a women's prison, but what form of technology would they miss most from the outside world? Taylor admitted, "My phone. I have a real problem with my phone. I feel uncomfortable about how dependent I am upon it, I feel like I need to work a program around it, it's not ok." Girl, you are not alone. Jenji agrees, "I've become addicted to my phone, which is so sad, but I am. I can't imagine not being able to distract myself in the way I do all the time now, but maybe that would be a good thing."
Article continues below advertisement
Photos: See the best celeb Instagrams of the week
Taryn has a different addicting distraction in mind. "Netflix, which is like my life. I even cancelled cable, which is everyone's story now. I have been catching up on Breaking Bad and Arrested Development. I watch all the documentaries in the documentary section, I am like a freak for documentaries. I love like real, true inspiration, non-inspirational, education, I like religious studies, I like science, I like the moon and the stars and all that." And her co-star Jason Biggs kind of agrees. "Well now if I don't say Netflix, I'm the asshole that didn't support my company. But I mean, can anyone survive more than five minutes without their iPhone? It used to be my impression walking through the streets of New York that you had to avoid all the fucking tourists that were looking up at the buildings and stuff, now it's like everyone is looking down at their phones and you've got to avoid those assholes, everyone is just walking around like that, it's unbelievable, unbelievable."
One of those people probably looking down at her phone? Madeline Brewer who plays Tricia on the show. "I recently became really addicted to Twitter. I don't know what it is about Twitter because I swore to myself I would never get one, and then after the show I got one. You get the news there and then you get drama going on, you get a little bit of everything and then you get to complain about your day! I just think it's a lot of fun, if I didn't have that way to vent I think I would lose it." And Kate kept it old school, admitting, "If you took my books away I would be in bad, bad shape. Gotta have the books. But I like a real book, the hard copy."
What technology would you miss most in prison? Tell us in the comments below or on Twitter @OKMagazine.