NEWS
OK! Exclusive: Workout Secrets! Lifestyle Expert Rasheeda Buckner-Frost Gives Her Top Tips To Stay Fit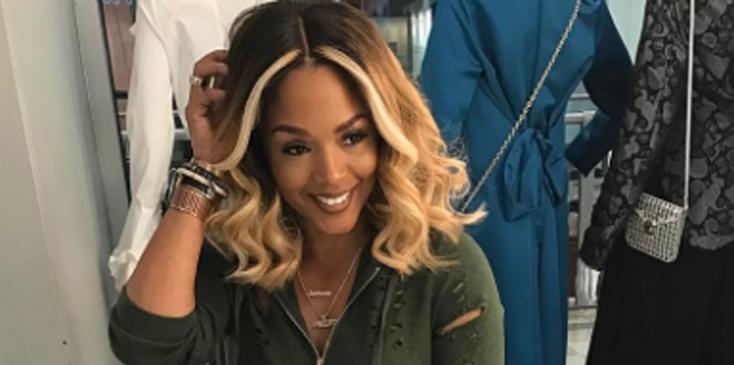 Rasheeda Frost is a definite M.I.L.F. And when it comes to keeping her body tight as a working mom, the Love & Hip Hop star swears by consistency, perseverance, and lots of water, as she told OK! in an exclusive interview.
OK!: What do you do to stay healthy and fit?
Rasheeda: Being a working mom and having a crazy schedule you really have to find that time to stay dedicated and figure out where to put fitness in your everyday life. So, I found what works for me is doing a nice 30-45 minute workout that includes cardio, some light-weight work, and I'm always working on my core.
Article continues below advertisement
Now I find myself fitting in the time to workout before my three-year-old wakes up, to get it in really quick. At the end of the day, the main things we have to do as women are find the time to workout, make it a part of our lives and stay consistent with it.
OK!: How'd you bounce back after having a baby?
Rasheeda: I'm definitely a breastfeeding promoter. You can burn as many calories breastfeeding as you can in a workout.
When it comes to working out, though, what I feel is the key, once you're okayed by your physician after the baby, is to make sure you're getting in that cardio. Get in some walks. You don't have to go running…I enjoy pushing the baby through the park…I just made it an activity that works.
Of course, diet is important, but after the baby, just keeping it 100, your appetite changes. It's hardly there. Now I'm speaking from personal experience, but when that happens just make sure you're doing good snacking throughout the day, as far as nuts, fruits, and salads.
Article continues below advertisement
I'm not a super diet type of person, but you have to understand portions. We have to be cautious about what we put in our bodies. At the end of the day, getting in a nice workout – it doesn't have to strenuous – drinking a lot of water, making sure you're cutting certain things down, as far as carbohydrates, even if you're cutting things in half, you'll see a difference.
OK!: What advice do you have for women who feel pressure to lose their baby weight fast?
Rasheeda: I feel like when you try to lose weight fast you can gain it back fast. The best thing to do is take your time with it so you can figure out what works out for you. It takes a bit of time, but I look at it like shopping – you have to finagle through and figure out what works for you to lose the weight. What works for somebody else may not necessarily work for you. I know some people will say 'I'm just not eating any carbs,' and the minute you start back eating a sandwich you'll pick the weight back up again.
Old-fashioned exercise and being aware of what you're putting in your mouth always works.
OK!: You mentioned that you work on your core often, what are some of your go-to tips to get killer abs?
Rasheeda: I have four tips:
Train your abs two to three times a week. Don't do ab exercises every day, your ab muscles are just like any other muscle in your body and need rest and recovery. It's only during rest that your muscles build and overdoing it will not help. If you train your abdominals three to five days a week, you will have strong sleek abs. Always incorporate upper, lower and oblique exercises. An example would be leg lifts, regular crunches, and twist crunches.
It's very important to eat small meals every three hours with lean protein at each meal. No sugar or alcohol. Do not eat condiments because they are high in salt, which will leave you bloated and super puffy. A quarter cup of ketchup gives you a third of a day's sodium allotment; a tablespoon of soy sauce holds nearly half a day's worth. You should have more potassium, such as tomatoes, bananas, salmon, almonds, and cherries.
The more water you drink, the less water you will retain and will release the salt out of your body.
Cardio is extremely important to me! If you want your fat-burning process to speed up, increase your cardio. You can also lift weights, which will help you gain muscle and burn the fat.