NEWS
OK! First Look: Britney's TV Appearance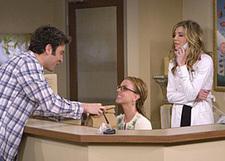 Just in case you can't wait for March 24, OK! has the first photo of Britney Spears' big cameo on How I Met Your Mother.
In the episode, Britney plays a receptionist, Abby, who falls for Josh Radnor's character, Ted. Unfortunately for Abby, Ted has the hots for her boss, dermatologist Stella (played by another guest star, Scrubs' Sarah Chalke). This should make for one interesting medical love triangle. Also, it looks like Britney's a blonde again.
Article continues below advertisement
(Monty Brinton/CBS)
The pop tart has said that "Abby is such a fun girl to play. I'm having a blast!"
Her co-stars seem to think that Britney did quite well playing Abby. Jason Segel told Extra, "It was pretty cool. She was as beautiful as I expected. It was fun. It was great. She was hilarious."
His co-star Alyson Hannigan agreed, telling Extra, ""I think it will remind people of how talented she is in comedy as well... She's just normal."
If you want to see how good Brit's comedic timing is, tune in next week!