NEWS
OK! & got2b Sexy Singles Sweepstakes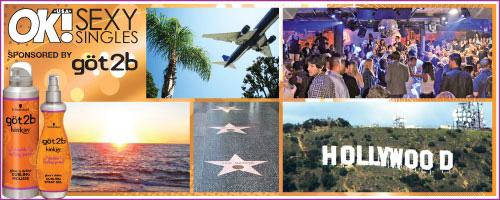 OK! and got2b have teamed up to offer readers the chance to win a glamorous two-night trip to Los Angeles!
The prize includes:
Round-trip airfare for two to Los Angeles, California
Deluxe, two-night accommodation in a double-occupancy room at a chic Los Angeles Hotel
VIP passes for two to OK! Magazine's annual Sexy Singles event in L.A. on 4/14
Ground transportation to/from airport and to/from OK!'s Sexy Singles event
Private hair consultation with celebrity hair stylist Larry Sims
Gift bag chock-full of got2b hair products including got2b's Kinkier
ENTER FOR A CHANCE TO WIN!
NO PURCHASE IS NECESSARY TO ENTER OR WIN THIS SWEEPSTAKES. A PURCHASE WILL NOT INCREASE YOUR CHANCES OF WINNING.
1. How To Enter: Beginning on March 21, 2011 at 12:00pm EST, visit www.okmagazine.com/got2bkinkier and follow the Sweepstakes entry directions. All entries must be received no later than 11:59 p.m. (ET) on April 1, 2011. Only one (1) entry per person and/or per e-mail address (whether by automatic entry or non-purchase entry method) will be accepted. Only one internet entry per person and per e-mail address will be accepted. Subsequent attempts made by the same individual to submit multiple internet entries using multiple e-mail addresses or otherwise will be disqualified. In the event of a dispute over the identity of an online entrant, entry will be deemed submitted by the authorized account holder of the e-mail address associated with the entry. Authorized account holder is defined as the person assigned to an e-mail address by an Internet access provider, on-line service provider or other organization responsible for assigning e-mail addresses. All materials submitted become the property of Northern & Shell N. A. Ltd. ("Sponsor") and will not be returned. By participating in the Sweepstakes, each entrant unconditionally accepts and agrees to comply with and abide by these Sweepstakes Rules and the decisions of Sponsor, which shall be final and binding in all respects.
Article continues below advertisement
2. Winner Selection / Random Drawing: Winners will be selected in a random drawing to be held on or about April 4, 2011 from among all eligible entries that are complete. The random drawing will be conducted by representatives from Sponsor whose decisions are final and binding in all respects relating to this Sweepstakes. Odds of winning a Prize depend upon the total number of eligible entries received.
5. Prize: One Grand Prize winner will receive a trip to Los Angeles, consisting of the following: round-trip coach airfare for TWO (2) (the winner and his or her travel companion) between the major airport nearest to the winner's residence and Los Angeles, California including ground transportation between airport and hotel in Los Angeles (Approximate Retail Value ("ARV") $2,650.00); TWO (2) nights hotel stay (one room double occupancy) at a hotel in Los Angeles, California (ARV: $1,000.00); TWO (2) VIP tickets to attend OK! Magazine's "Sexy Singles" Event on April 14, 2011 including transportation between the hotel and the event (ARV: $150.00); ONE (1) private consultation with hairstylist Larry Sims or equivalent (ARV: $450.00); and ONE (1) gift bag of got2B hair care products including Kinkier (ARV: $200.00). The total ARV of all prizes is $4,450.00. All travel and hotel accommodations must be must be used from April 13, 2011 through April 15, 2011, or prize will be forfeited in its entirety. The dates of departure and return are subject to change at Sponsor's sole discretion. Trip and all other components of prize subject to availability and blackout dates. Travel must be roundtrip. Sponsor will determine airline and flight itinerary in its sole discretion. No refund or compensation will be made in the event of the cancellation or delay of any flight or other event. Travel is subject to the terms and conditions set forth in this Sweepstakes, and those set forth by the Sponsor's airline carrier of choice as detailed in the passenger ticket contract. Airline tickets are non-refundable/non-transferable and are not valid for upgrades and/or frequent flyer miles. All airline tickets are subject to the vagaries of flight variation, work stoppages, and schedule or route changes. All expenses and incidental travel costs not expressly stated in the package description above, including but not limited to, additional ground transportation, meals, incidentals, passenger tariffs or duties, surcharges, airport fees, service charges or facility charges, personal charges at lodging, security fees, taxes or other expenses are the responsibility solely of winner. Travel companion must be twenty-one (21) years of age or older as of the date of departure and must travel on same itinerary and at the same time as the winner. Winner and his or her travel companion must possess all required travel documents, including visas and valid passports, if and as applicable. Travel companion must execute liability/publicity releases prior to issuance of travel documents. Travel restrictions, conditions and limitations may apply. Sponsor is not responsible if any course or tour is delayed, postponed or cancelled in which event that portion of the prize is forfeited in its entirety and no substitution will be provided except in Sponsor's sole discretion. Sponsor will not replace any lost, mutilated, or stolen tickets, travel vouchers or certificates. ARV for travel prizes may vary based on airfare fluctuations and distance between departure and destination. The ARV for travel prizes is an estimate made before the Sweepstakes begins. Winner will not receive cash or any other form of compensation if actual travel costs are less than the estimate made in these Sweepstakes Rules. The round trip air transportation element for any travel prize beings and ends at the point of departure. All prizes are non-transferable, have no cash value and will be deemed void if sold, transferred, auctioned or assigned to any third person. In the event that winner and/or his or her travel companion engage in behavior that (as determined by Sponsor in Sponsor's sole discretion) is obnoxious or threatening, illegal or that is intended to annoy, abuse, threaten or harass any other person, Sponsor reserves the right to terminate the trip or other applicable experience early, in whole or in part, and send the winner and/or his or her travel companion home with no further compensation. No cash alternatives or prize substitutions will be allowed, except Sponsor reserves the right to substitute prize(s) of greater or equal value if a prize listed is unavailable for any reason. No transfer or assignment of any prize is permitted. All federal, state and local taxes and any other costs or expenses relating to the acceptance and use of a prize are the sole responsibility of the winner.
Article continues below advertisement
6. Sweepstakes is open only to legal residents of the fifty (50) United States and the District of Columbia who are twenty-one (21) years of age or older at the time of entry. Employees of Sponsor, Sponsor's licensors and prize providers (collectively, "Sweepstakes Entities"), each of their affiliates, subsidiaries, advertising or promotion agencies, and their immediate family members and/or those living in the same household of each are not eligible to enter or to win a prize. Void in Puerto Rico, Canada, and where prohibited or restricted by law. No substitution or transfer of prize by winner is permitted. All federal, state and local laws apply.
7. Potential Winners must submit an Affidavit of Eligibility / Release of Liability / Prize Acceptance Form within two (2) business days of attempted notification. If any Prize or affidavit or release is returned to Sponsor as undeliverable or if Sponsor does not receive a response from any potential winner within two (2) business days of attempted notification, such winner may be disqualified and such Prize may be awarded to an alternate winner, in Sponsor's sole discretion. Non-compliance shall result in disqualification and possible award of the applicable prize to an alternate winner, in Sponsor's sole discretion. By participating in the Sweepstakes, each entrant accepts all risks and consequences of entry and participation in the Sweepstakes and hereby forever and irrevocably releases and holds harmless the Sweepstakes Entities and each of their parents, affiliates, subsidiaries, and the officers, directors, and employees, representatives, successors and assigns of each (collectively, "Releasees") (i) from any claims, liabilities, law suits, judgments, losses, damages (including without limitation, consequential, punitive, incidental, special or increased damages and those related to personal injury, death or damage to property), costs, and expenses (including attorneys' fees) under any legal theory, arising from, resulting from or in connection with the Sweepstakes, including but not limited to, the entry and participation in the Sweepstakes or in any Sweepstakes related activity, or from entrant's acceptance, receipt, possession, delivery, and/or use, non-use or misuse of any prize, any printing errors, any claims based upon the rights of publicity and invasion of privacy even if the Releasees were aware of the possibility of such consequences, the participation in any trip or trip related activity, any delay, interruption, early termination or forfeiture, in whole or in part, of any prize trip or related travel, lodging or trip related activity (before, during or after) even if any of the Releasees were aware of the possibility of such consequences, and (ii) have not made any warranty, representation or guarantee express or implied, in fact or in law, with respect to any prize and specifically disclaim all such warranties, including without limitation, to its quality, mechanical condition, safety, performance, the implied warranties of merchantability and fitness for a particular purpose. By accepting a prize, the winner agrees to the use of his/her name, photograph, likeness, biographical information, voice, statements concerning the contest entry, and/or city/state of residence by Sweepstakes Entities, or any party authorized by Sweepstakes Entities, for advertising, promotional and merchandising purposes (and grants all rights to edit or modify and to publish and copyright it) worldwide in perpetuity and in any and all media without additional notice, compensation, right to review or receive notice, where permitted by law. Prizes will only be awarded to a verified winner. Winner must also make himself or herself available to travel at Sponsor's expense for promotional purposes. By participating in this Sweepstakes, entrants agree to abide by and be bound by these Sweepstakes Rules, and understand that the Sweepstakes results are final in all respects. Entrant is responsible for all online charges incurred by Internet Service Provider.
Article continues below advertisement
8. Neither the Sweepstakes Entites, any telephone network, nor service providers are responsible for incorrect or inaccurate transcription of entry information, or for any human error, technical malfunctions, lost/delayed data transmission, omission, interruption, deletion, defect, line failures or any telephone network, computer equipment, software, inability to access any Web site or on-line service, or any other error or malfunction, or late, lost, illegible, incomplete damaged, postage-due, mutilated or misdirected entries or entries not properly forwarded to Sponsor. Entry materials that have been tampered with or altered are void. If the judges determine, in their sole discretion, that there is any suspected or actual electronic tampering with the Sweepstakes or if technical difficulties compromise the integrity of the Sweepstakes, the judges reserve the right to void the entries at issue and conduct a random drawing to award the Prize using all eligible entries received as of the termination date. If the Sweepstakes is terminated due to tampering or technical difficulties prior to its expiration date, notice will be posted at www.okmagazine.com. Any attempt to deliberately damage the content or operation of this Sweepstakes is unlawful and subject to legal action.
NOTE: Internet entry must be made by the entrant, only at the authorized website address of www.okmagazine.com/sweepstakes. Entries made by any other individual or entity and/or originating at any other Internet website or e-mail address, including but not limited to commercial contest subscription notification and/or entering service sites, will be declared invalid and as such ruled ineligible for this contest.
Article continues below advertisement
9. Any information entrants provide to the Sponsor will be used to communicate with entrant in relation to these Sweepstakes. Sponsor may also share this information with third parties who are participating in this program. Sponsor or third parties may contact entrants at a future date about services the Sponsor believes entrants will find of interest. Entrants may remove their information from Sponsor's lists by mailing a request to Northern & Shell N.A. Ltd., 1155 Avenue of the Americas, New York, NY 10036.
10. For the name of the winner, mail a self-addressed, stamped envelope to: OK! and got2b Sexy Singles Sweepstakes, OK! Magazine, 1155 Avenue of the Americas, New York, NY 10036. Requests for the name of winner must be received by May 4, 2011.
11. This Sweepstakes is sponsored by Northern & Shell N. A. Ltd., 1155 Avenue of the Americas, New York, NY 10036.