NEWS
OK! Interview: Allison Iraheta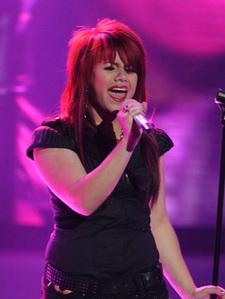 What advice did your mom give you before you started?
She just told me to do your best. She was just proud of me for trying out and do your best and stay true to yourself.
Tell us a little about your hair.
It was weird. Red is my favorite color. It was two years ago when they decided to do a makeover thing to me. I had long, brown highlighted hair. They just cut it short and dyed it red. Then my mom started getting used to it and slowly I started adding other colors.
Article continues below advertisement
Is there a brand you love to make it red?
I use L'Oreal. That's the one I use to dye it myself.
Describe your style.
I'm really bad at that. I'm the kind of person who's like, oh I like that. I'm gonna buy that. I do like the funky colors. There's this one store I really like. It's called Forgotten Saints for performances. I really do like that one. I do go to random stores. I pull things out of anywhere and put them together. I'm not good at styles and all that.
Is there a celeb that inspires your style?
I don't think so. I'm pretty bad at that. I think, "Oh that looks good on them, maybe it will look good on me," and then I put it on and I'm like, "Oh no, that's not right." So I stopped trying with that. I just go for what looks good on me.
You were with all those boys in the house, how was that?
All of them were older brothers. The one who was really protective over me was Matt Giraud. He was like, what are you doing, why is he talking to you? I'm like, "He's my friend!"
Article continues below advertisement
I can go to Kris Allen and tell him anything, just can talk to him. For advice, that would be Adam. And Danny Gokey was the one I'd goof around with. Anoop Desai was the smart, intellectual one that I'd be like, can you help me with this, and Scott MacIntyre was one of the funniest there too.
Did you get fashion or makeup advice from Adam Lambert?
Definitely. He knows a lot about the fashion you can tell he's good at the styles. And I definitely asked him before every performance, I'd ask for his advice, how does this look on me and he'd say, not so much. Or he'd be yeah, OK. So it was pretty cool. We're like family, we could ask for advice.
Are you going to duet on tour with Adam?
Yes, we hope so. If we can, that will be fun.
What songs will you sing on tour?
I'm thinking about "Crybaby," the one I got eliminated with. I haven't thought about the others yet.
What drew you to that song?
I knew it before they even gave me the list. And if I know it, then a lot of people should know it, but I guess not. I really like the song, and it's a song that I've liked since forever. And since they said it was classic rock week, I thought, I got this, I got to do this. They had it on the list and I checked it off and I felt good about it.
Article continues below advertisement
You have celeb fans Miley Cyrus and David Archuleta.
That's crazy man.
Do you have any others?
Can I brag about this? He just recognized me in the airport, Zach Braff from Scrubs. And he came up to me and said, "Hey, nice to meet you." And I was like, "Uhhh, I'm star struck right now." He's like, "So am I." It was really awesome meeting him and knowing that he knew who I was. It's pretty cool, I'm a big fan of his.
How do you plan stay grounded as a teen star?
I guess it's all up to me. When people get out there and you get noticed, people know who you are. Some people start changing and think, oh I'm a better person. I feel I'm definitely going to do well with that because I'm going to stay true to myself.
When you get home, will you have your own hometown parade?
I have a lot of people who do want to have some stuff done when I get home like surprise parties that I've heard of that I shouldn't have.
Will you have school on tour?
Yeah. I've got to finish school and I really want to and I have no other choice.
Are you trying to fit college in there?
I definitely want to fit college in there for backup. I'm not going to give up on the singing. I've gone this far, why stop now. I really want to keep going.