NEWS
OK! Interview: 'ANTM' Winner Nicole Fox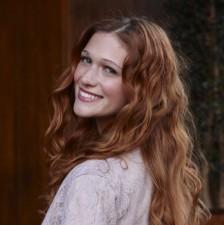 After a series of fierce fashion competitions, Nicole Fox was chosen on Nov. 18 as the winner of America's Next Top Model by host Tyra Banks and her panel of judges. The contest was the show's first for "petite" women, meaning women 5 feet 7 inches (like Nicole) and under. The 18-year-old beauty opens up to OK! about her sudden fame, her shyness — and her strange encounter with Robert Pattinson!
The shy art student from Louisville, Colo., beat out 13 other contestants, winning a $100,000 contract with CoverGirl and representation by the elite Wilhelmina agency. OK! caught up with the University of Colorado sophomore at the NYC hot spot The Griffin, where she shared her amazing experience.
Article continues below advertisement
How has winning the competition changed you?
I've always been introverted, so the No. 1 challenge for me was to get over my camera shyness. If you watch the show all the way through, you can really tell I went through a transformation. I learned how to present myself in a much more confident way.
Are you dating anybody?
Honestly, I'm terrified at the prospect of dating. I've never had a boyfriend.
Seriously?
No experiences with boys at all. It's just very scary to me. If I had a crush on a boy, I would just kind of watch from afar.
Any petite models you look up to?
I don't want to be cliché, but I guess I'll just be honest and say Kate Moss. I'm sure there are others, but their height disadvantage was not as advertised as hers was.
What was it like working with Tyra?
Awesome. Considering how famous she is, I kind of expected her to sit back while everybody scurried around on-set. But she worked harder than anybody.
Article continues below advertisement
You've had the chance to meet other celebrities — in fact, I hear you recently had a run-in with a certain vampire...
I was doing Regis and Kelly — I was waiting in the greenroom and had to go to the bathroom really badly; I opened the door and there was Robert Pattinson. I just kind of looked down at my shoes and scuttled away really quickly.
Was he as cute as you thought he'd be?
Unfortunately, I wasn't able to make ou his face very well — I have really bad eyesight. But I have a friend who's obsessed, and for her Halloween costume she had asked me to paint a portrait of him on a T-shirt. So I kind of recognized his silhouette — I thought, That hair! Wait a minute, I painted that!
What's your dream modeling gig?
Runway is beautiful, but photo shoots with amazing photographers — that's really my dream. Steven Meisel — if I ever modeled for him, I'd be blown away. Right now, I'm going to do whatever Wilhelmina asks me to do. I just want to take this opportunity as far as I possibly can!