NEWS
OK! Interview: Avril Lavigne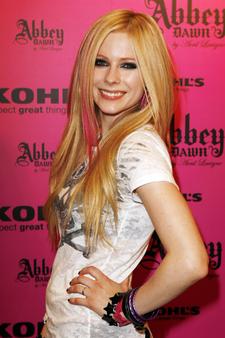 Pop-punker Avril Lavigne has already loaded a career's worth of experience into her youthful 23 years. In addition to her three hit records, including last year's The Best Damn Thing, she's done her fair of acting in films like Fast Food Nation and the animated smash Over the Hedge.
And now she's set to take her unique look and attitude to the kids' department, as she joins forces with Kohl's department store to launch her new clothing line Abbey Dawn.
Article continues below advertisement
The superstar singer recently sat down with OK! at the Abbey Dawn launch in Alhambra, Calif., to discuss her sense of style, her love life, and those pesky Internet rumors.
There are hordes of fans lined up around the building today to meet you and see your new clothing line. That has to feel nice.
It kind of feels like my birthday or something. It's a whole new experience for me — to have a crowd of people and it not really having anything to do with my music.
How involved with the design were you?
I am the designer and the concept obviously came from me. As far as designing goes, I just sat down and told everyone what I love and what I don't like, and basically the clothes are everything that I would wear.
Was it important for you to keep prices down on the items in your line?
It's definitely important. The clothes that I wear are affordable. I don't really wear that many high-end stuff, so pretty much everything is from $24-$48 so it's really affordable for young people.
Article continues below advertisement
Where did the name Abbey Dawn come from?
That was nickname from my dad when I was a little girl. It was my alias name when I first started my musical career. I used to think maybe I'll have a girl and call her Abbey one day, but I had a clothing line first.
Speaking of which: Are you planning on having children someday?
Oh God! I don't want to have kids for like 10 years. I still have a lot to do. I don't even know if I could handle a dog right now. I'm so not ready. Someday I'll be a mom but not until I'm in my 30s.
It was your second wedding anniversary on July 15. How did you and Deryck celebrate?
We went away for the night and went to our favorite restaurant and just had a very romantic day and evening. If I wasn't on tour right now, I would like to have gone on vacation to Hawaii or something but I'm only home for the week.
How are you able to keep the relationship strong when you are touring for so long?
We e-mail and talk on the phone. I'm always on my Blackberry. He comes out and visits. I was just in Europe and he came out for two weeks at the beginning of the tour and two weeks at the end of the tour.
Article continues below advertisement
It's really great having Deryck around because he's really talented and he can help out and give me notes on the show. After I took my voice lessons he was like 'whoa, you're voice is the best I've ever heard it.' He has a really good ear.
So when Deryck isn't around, do you hang out mostly with your dancers on tour?
I'm really close with a few of the band guys and a few of the dancers. We get together and we hang out and we have dance parties. I always end up being friends with random dancers because they're with you for so long and there's no one else around.
One dancer commented that you made everyone dye their hair brown so you could be the only blonde on stage. Is that true?
Everyone was brown except one of my favorite girls was blonde so we were like 'you have to have brown hair.' It wouldn't look right.
I wanted my girls to look really punk rock with like black hair and that's pretty standard for everyone, like Madonna and Mariah Carey. If they're blonde you're not going to see another blonde on stage.
Article continues below advertisement
How does it make you feel when you hear rumors about you going around the Internet?
You get built up and put on a pedestal and then people want to bring you down. It can be hurtful. Some people try to make me look bad or not a nice person but it's completely false.
Does it really bother you?
Yeah of course, as a human it can be hurtful, but at the same time I don't let it affect me because there are more positives going on than negatives. I'm just some chick from Napanee, Ontario and I can't believe where I am today.
Is the criticism harder to take as a musician, who has to pour her heart into her music?
When you're a rock star or a person who puts your music out there, it's more personal. But I absolutely have nothing to complain about.
You took a lot of heat for canceling some tour dates in the US.
I lost my voice for the first time. I was so bummed out, but it happens to every singer at some point in their career.
Article continues below advertisement
I don't think most people understand, but I sing every night and sometimes we do five shows in a row, which is really bad for your voice. So now I'm working with a coach and my voice is back in shape.
Some reports had you going out and partying during some of the canceled shows, though.
I didn't go partying the entire time. When I got home, I sat at home. I was on antibiotics – for the first time in six years because I'm kind of anti that – and I stayed at home.