NEWS
OK! Interview: Brooke Mueller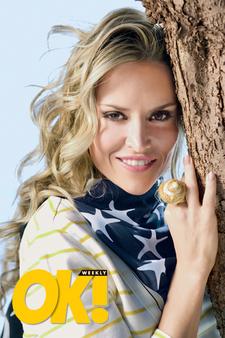 After months of being scrutinized under the media's lenses, Brooke Mueller, Charlie Sheen's fiancee, is turning the tables! Brooke has signed up to be Extra's newest correspondent and can hardly believe it. "The opportunity presented itself and I jumped on it," Brooke tells OK!. But that's not all she's busy with these days. Brooke, a former real estate agent, is planning her upcoming wedding ("It'll be small") and keeping up her model hobby. The 30-year-old took time out of her busy schedule to chat with OK! about her comfy-casual style, her new gig and why all the world's a "stage."
Article continues below advertisement
Describe your style.
I'm a jeans and T-shirt type of gal. I like comfortable clothing. I don't know what kind of style that would be, but just very casual jeans and T-shirts.
Do you have a favorite designer?
I love to wear James Perse all the time, because it's so comfortable. The material's so light and the cut is flattering.
When you want to look glamorous, what's your go-to?
I go to a stylist. No, I'm kidding laughs. For some reason, lately my go-to is definitely a little black Rebecca Taylor dress. I bought a few of her dresses.
Is there a fashion faux pas that stands out in your memory?
Yes! I wore a dress to the Butterfly Ball in 2007 that I wish I hadn't. It ended up everywhere, because that's the photo they used on the announcement of my engagement to Charlie.
What was wrong with the dress?
It showed way too much of my cleavage — way too much! It made me look a little wide. It just wasn't flattering at all. I thought it looked great when I put it on but I didn't realize how much it showed. And nobody told me laughs. I was a little horrified!
Article continues below advertisement
Is there anything in your closet that you'd say you wear too much?
Yes, my black leggings. Me and Lindsay Lohan! I wear my black leggings with everything! I think it's time I find another fashion thing. A couple of my girlfriends have said, "Are you wearing your leggings and boots again today?"
Which accessory do you have an excessive amount of?
I went through this hat phase that I just recently got out of. I was such a repeat offender. I bought ridiculous amounts. I have about 40 hats at home.
What about shoes?
I probably have about 60 pairs of shoes. Purses, I probably have about 30. Is that a lot? Laughs
How has it been for you, being in a relationship that is so scrutinized?
Before Charlie, nobody knew me at all! It's scary, because I'm always afraid of what I say. But I think it's been a great experience.
Who's the better cook?
Probably him. I probably do it a little more, but he's better when he does it.
Article continues below advertisement
Is there a dish of his that's a favorite of yours?
His tuna fish is really good. He makes the best tuna fish! It's what he adds to it. It's all the hot sauce and the spices and everything. It's not just the traditional tuna fish. He spices it up. I know that that's nothing fancy. But that's my favorite thing that he does.
How have you been enjoying working on Extra?
I love the people I work with. I really do. I work with some of the most fascinating women over there.
Is this something that you always dreamed about doing?
The opportunity presented itself and I jumped on it.
What do you hope this gig will lead to? Are you hoping to become the next Barbara Walters?
I haven't thought too much about it yet. I like what I'm doing, but I haven't thought about where I'm going to go from here. I'm just enjoying the moment right now.
Did you ever have any embarrassing moments in front of the camera?
Article continues below advertisement
I don't know if anything embarrassing. I did think, in one of the interviews I did, that I was walking kind of like a gorilla. It wasn't really feminine and classy. I wish I could take that back and walk a little differently. It was a pretty long shot of me walking. I was walking uphill, and I was trying to catch up with the actor I was interviewing. So I was kind of trying to walk fast uphill. And I don't know… It wasn't too flattering laughs.
What would you be doing if not this?
Probably flipping homes. I still do that.
Do you decorate them yourself, or do you bring in contractors?
I actually stage. What I do is I completely renovate or remodel the interior of the house. And I like a house that has great bones and great structure anyway. I put in all brand new appliances and hardwood floors and new bathrooms and new fixtures and new everything. Then at the end I have stagers come in and they're brilliant with the designing aspect, as far as with furniture and rugs and paintings. And basically you pay them monthly until you sell the house. And the stagers are great, because they really put a lot of life into the house. They design to sell. So they make it warm. It's amazing. The last house I had was on the market for six months. I couldn't sell it. Then I brought in stagers and it sold three days before I listed it, after the stagers got through with it.
For more on Brooke, check out her gallery and pick up the latest issue of OK!, on newsstands now!