NEWS
OK! Interview: The Cast of My Sexiest Year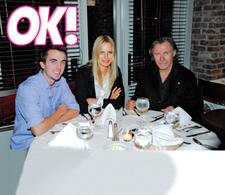 It was a sexy feast for the cast of My Sexiest Year at the Hamptons International Film Festival. Harvey Keitel, Daphna Kastner, Frankie Muniz and model-turned-actress Karolina Kurkova dined at Prime 103 to toast the premiere of their coming-of-age dramedy and OK! joined them for the four-course meal.
On the menu were steak, salmon and lobster risotto, topped off with banana spring rolls for dessert, and everyone scarfed the dishes down. Yes, that includes the slim and slender Karolina, who confesses she doesn't diet, and instead chooses to stay in shape through exercise.
Article continues below advertisement
"If your body's strong your mind is strong, so you should sweat it out," she tells OK!
Daphna is also Harvey's wife of six years, and while many suggest couples to not mix business with pleasure, the actress admitted that working together "is better than not working together."
As for Frankie, he's finally back at work in the field that made him a household name after a two-year sabbatical. Following Malcolm in the Middle's cancellation, the 21-year-old turned his focus onto his first love of race car driving and currently competes in the Champ Car Atlantic Championship.
"I love being an actor but if I had to choose one over the other, I'd definitely pick racing cars."
For more on the cast of My Sexiest Year, check out their exclusive gallery and pick up the latest issue of OK!, on newsstands now!