NEWS
OK! Interview: The Cast of The Wackness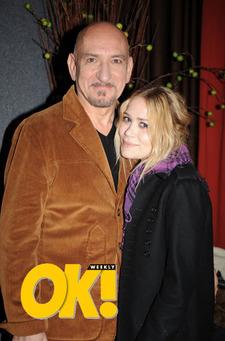 Before you get wacky with The Wackness this summer, OK! caught up with the film's cast and writer/director Jonathan Levine at The Leaf Lounge in Park City, Utah, where we dined over a fine course of salmon and chatted about the eagerly anticipated film that features that uber-hyped kiss between Sir Ben Kingsley and Mary-Kate Olsen. The film follows the eccentric relationship between a drug dealer (Josh Peck) and his psychiatrist (Sir Ben), who offers therapy sessions in exchange for marijuana and opens July 3.
Article continues below advertisement
Jonathan Levine
Can you describe the movie?
The movie is semi-autobiographical as it is centered around the city I grew up in, and the thoughts and feelings I had at that age. So, I would say it is an extension of reality.
The plot is interesting to say the least.
I like to make challenging movies. Take some risks, while filming and using elements that make me a nerd, and somehow making it mainstream.
What was it like working with such a stellar cast — Sir Ben, Mary-Kate, Famke Janssen?
I was so fortunate to have the cast. The casting directors are amazing. Ben Kingsley would be anybody's first choice, and I can't believe we got him.
Everyone's been talking about that kiss between Sir Ben and Mary-Kate. Do you have anything to say about that?
The kiss between Sir Ben and Mary Kate is so insignificant and no way will overshadow any part of the film. People will understand that when they see it and forget that even happened. Although I was quite excited about some of the publicity that it received while we were filming. It helped start a buzz about the film, and gets the ball rolling.
Article continues below advertisement
Sir Ben Kingsley
Why did you decide to do this film?
There was something about the movie and Jonathan that was innocent. He was great to work with because he would try new things, and who says he can't do things. Well of course he can shoot from that angle, why can't he. He had no limits to what he was doing.
You play a psychiatrist who gets high. How much did this role appeal to you?
I was very drawn to the character. It's just a very interesting movie that is not forced and where the plot and characters naturally unfold.
You kiss Mary-Kate Olsen in the film. There's a lot of buzz about that.
You think that's controversial, wait until my next movie where I kiss Dennis Hopper!
Josh Peck
Everyone, especially younger folk, know you from Drake and Josh. How does it feel to play a such a different and mature role?
My fans are my fans, and I hope they stay that way. Everyone has to grow up sometime. I don't want to be typecast.
What was it like working with Sir Ben Kingsley?
He has always been my absolute favorite actor, and all you can do is learn from it.
And that kiss?
There's so much more to the movie that the kiss is insignificant.
For more on The Wackness, check out the gallery and read up on the recipes!