NEWS
OK! Interview: Celine Dion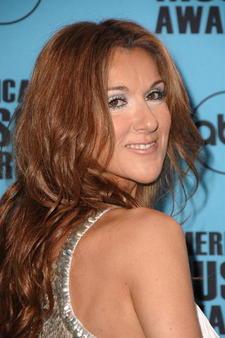 A music staple, Celine Dion has been in the industry for more than 25 years and the songstress believes life is only getting better and better. Having just released a new album, Taking Chances, and preparing to call "curtains" on her extended Las Vegas concert run, Celine, who has a son, René-Charles, 6, with husband René Angélil, is looking forward to a new chapter in her life. The 39-year-old opens up in the newest issue of OK! about family, music and how she's remained grounded all these years.
Article continues below advertisement
How do you feel about leaving Las Vegas? What do you think you'll miss most about it?
Well, it's been my home for the last five years. We consider ourselves Las Vegans now (laughs). We're going to keep our house here because my son was 1 ½ when we moved here and he made memories here. It's his home. We've celebrated six birthdays here, so we're going to keep this house although we're building our new house in Florida.
Do you feel good about getting older?
My feet are definitely more grounded than before. And I know that I'm not holding onto a dream. I'm holding onto my life. I'm so centered in feeling great about me that I can give great things to my son and my husband and my family. I see clearer and clearer now. There's no such thing is aging, but maturing and knowledge. It's beautiful, I call that beauty.
You have a world tour coming up. What can audiences expect?
Article continues below advertisement
A brand new show. It's very modern, very fresh, dynamic. (snaps fingers) Very up tempo. Uplifting, edgy. Let's put it this way, same Celine — I will be singing my previous repertoire that's sure, but I also have my new album called Taking Chances, and those songs are very powerful. Definitely a lot more edgy. I will be performing both old and new songs. I can't wait. I'm very thrilled.
Where would you most like to live in the world?
It doesn't matter for me where I live as long as I am with my entourage, my entourage of my husband and son is my home. As long as I have my two men, it doesn't matter.
What do you never leave home without?
My son. Sometimes my husband has to stay for business stuff, but most of the time, my husband and my son.
Lets talk about the album title, Taking Chances. Do you consider yourself a big risk taker?
Article continues below advertisement
I take chances in what I believe. And I thought those songs were amazing. The title is very appropriate because, first it's a song and, second, the journey in Vegas. Probably people thought, "She's not going to do a tour. They're not going to do an album. She's exhausted" and all that. Yes I am, but I'm especially uplifted as well. Because it's been an amazing journey but at the same time the songs are so unbelievable, there's no way I'm going to put this on the table and leave it there. I will go on stage and have a good time. Also my son is going to be noticing that. Can you imagine, "My mother is on stage." And I'm singing an album that I'm very proud of. It's going to be a visual spectacular and he's going to be 7 years old. He's at an age where he'll probably remember. It's a privilege to be able to have this experience with him.
There's a big rock influence on this album as well.
My edgy side…(laughs)
Which will undoubtedly broaden your demographic. Was it a conscious decision to do that or is that how it came about naturally?
It came about naturally.
How would you say you've evolved as an artist and as a woman?
As an artist, think progressively, naturally. As a woman, I think it's opening up yourself to life and noticing what life can bring you and let it in. And then it becomes whatever you become. I definitely would never go back to my 20s. The best is yet to come.
Article continues below advertisement
How do you feel about other artists who are having difficulties being grounded?
I have to say this — the thing I'm most proud of, that I'm grounded and balanced. That's my biggest success is the person I could remain through the years. It's not easy to achieve and I certainly wish that everyone would have the family and the support and team that I have. I think this could make the huge difference. I feel in this generation they have to have it all. Beat the odds and do it all, but they need the family and the support there. The music industry has changed tremendously and the kids have so much pressure. I'm glad I did my work, studied my career 20 years ago and now I can enjoy it.
What advice would you give a young singer trying to get into the business?
Never say that your life is to be a singer. You want to sing because it's a part of your life. But in your life, you are in charge. If you don't succeed as a singer, it doesn't mean you don't have a life and it's over. You have your life and you can have a career to have fun. Most kids these days say it's their life. That's the problem.
For more on Celine, pick up the latest issue of OK!, on newsstands now!