NEWS
OK! Interview: Cristián de la Fuente & Cheryl Burke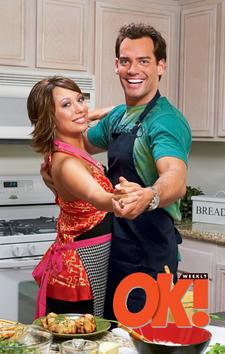 She may be the boss on the hardwood, but Cheryl Burke definitely takes a backseat to her partner, Chilean actor Cristián de la Fuente, when it comes to cooking. The pair, who've been heating up the dance floor on Dancing With the Stars, spice up the kitchen with OK!, where the hunky star showed his quickstepping pro a thing or two behind the stove.
So Cheryl, you can't cook, right?
Cheryl: No, I can't, but I haven't really tried, either! I think if I had a cookbook and I actually took the time I'm sure I could. But I've always wanted to learn. I always wanted to go to culinary school, especially because I'm from San Francisco, and they have a really good school there. I was always thinking about doing it but never got the chance to.
Article continues below advertisement
Cristián, how did you learn to cook?
Cristián: Growing up, we didn't have money to go to a restaurant to eat, so we'd open the fridge and try to come up with a dish with whatever we had. I moved to America 10 years ago and this country, either you have a lot of money and you eat out every day or you cook. You can start making dishes better every day, getting a cookbook here, a cookbook there, trying to come up with things that taste better than grilled chicken.
What did you grow up eating?
Cristián: There's a lot of sea bass and seafood in Chile, so we eat a lot of fish. Sometimes we will barbeque, but I mainly eat a lot of chicken because the problem when you eat red meat is you need to take a nap afterwards. With chicken, you can eat and keep going. It's healthy; it's good. Chicken is a very important part of my diet and then chicken with vegetables is always good and it's easier to find and not expensive. It's funny that eating healthy is more expensive than eating good food.
Article continues below advertisement
Cheryl: My mom cooked a lot of Filipino food. I ate a lot of rice, soups, different meat dishes — chicken, all different types of stuff. I've been raised eating Fillipino food. My babysitter was authentic Fillipino — she didn't even speak English so that's all she really knew how to cook too.
What's a major Filipino delicacy or favorite of yours?
Cheryl: It's called adobo and it's like a chicken soup but you can put it on rice. Chicken is dark meat and it's really tender and the soup is kind of sweet. You put it on with rice. It's something I always ate for lunch when I got home from school; that's what would be waiting for me.
Cristián, what's your best cooking tip for Cheryl?
Cristián: The same thing she told me when we started the show: Have fun. When you cook, you have to have fun. When you enjoy the cooking, that comes out in the dish. A dish done without fun and love is boring.
What do you usually cook?
Cristián: A lot of grilled chicken, with vegetables. I add a little bit of this, a little bit of that. I try not to follow rules and to improvise. It depends on my mood.
Article continues below advertisement
Are there any spices you particular like?
Cristián: I like garlic a lot. With garlic, everybody has to eat it. That's the rule. If only one person eats garlic, that's not good.
What's your diet like during DWTS?
Cristián: I usually have scrambled eggs with turkey for breakfast. Lunch is chicken or fish with some rice. Dinner is chicken or turkey with a green salad.
Cheryl: I'm conscious that I don't eat heavy stuff. I get so nervous anyway that I tend to forget meals. One Monday, I was so nervous, I think I only ate one meal a day, which is not good. I just want to eat light and snack throughout the day — still eat your three meals and not eat too late at night.
How do you two get along?
Cheryl: Great. It's like a bickering brother-sister relationship. He loves to mess around with me. Sometimes he'll be like, "Oh, my God, you're so physically abusive," because I'll hit him and he gets so frustrated sometimes. We'll joke around and he'll start hitting me and then I'll start hitting him. It's really funny. He's really sensitive and I'm really strong. I think it has a lot to do with our horoscope signs — he's a Pisces; I'm a Taurus. He's very sensitive and I'm used to getting straight to the point.
Article continues below advertisement
Cristián: It's so important you get along with your partner and you have good chemistry. You spend so much time together, not only the show and the rehearsals but the press, everything that you do together. I spend more time with her than with my family. She's become part of the family. Laura my 3-year-old daughter just gave her a kiss. That means she's approved.
Do you think you guys can win?
Cheryl: I think we have a great chance, just based on dancing. I don't know how his fanbase is, but I think his charm will get him through. He is a good dancer and he really works hard, and he improves and really works hard. He does have a great chance, especially if he keeps having fun and he doesn't forget what the competition is all about.
Cristián: The competition is tough. I would love to because I don't know anybody who gets into a competition that wants to lose but it's tough. There are really good dancers out there. And you have Marlee Matlin, who is fantastic and if I don't win, I would love for her to win because that would be inspiring for everybody. Somebody who can't listen to music who is a great dancer, to go out there and follow your dreams and do everything you want. At the end of the day, that's what we all should do and she has the power and the strength to do it, and that should inspire us.
For more on Cristián and Cheryl, check out their gallery and pick up the latest issue of OK!, on newsstands now!