NEWS
OK! Interview: David Schwimmer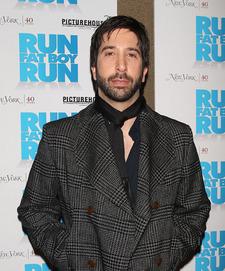 Four years after the Friends said goodbye, David Schwimmer has kept himself busy. His current project is directing the comedy Run Fat Boy Run, about a man afraid to commit, starring British comedian Simon Pegg, Hank Azaria and British beauty Thandie Newton. OK! caught up with David and his girlfriend, a photographer named Zoe, at the New York screening of the movie.
What are your best memories of Friends?
Article continues below advertisement
Aw, you know. Just working with the writers and the terrific acting ensemble. Every day was just great! It was the best job we ever had!
Why did you choose to direct this project?
I've been reading scripts for about four or five months and this was just hands down the funniest script I read. I actually thought it was a mistake that it came into my lap, you know? I just -- as soon as I put down the script, I called my manager and said, "I have to get this movie." It took two years to get it and a year and a half to make it, so four years later, it's finally here and I'm just really excited.
So, do you think this movie could be a message to slackers everywhere to get their act together?
I think it's a message to anyone! To all of us! I mean, the idea is that if you see a better version of yourself, you can work hard and realize it -- make it happen. The movie has a positive message or I wouldn't have been attracted to it.
What's next for you?
I'm co-writing something right now -- a dramatic thriller to direct. And I've just acted in a film -- I'm playing Kate Beckinsdale's husband in a political thriller called Nothing but the Truth. Directing took a year and a half – so I'm now trying to get back into the acting game as well-- keep it fresh.