NEWS
OK! Interview: Ellen Page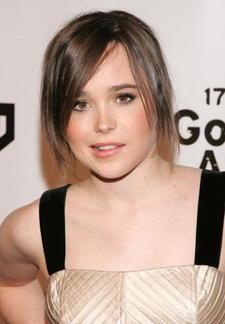 Ellen Page certainly doesn't mind stirring up controversy.
The Nova Scotia-born actress, 20, plays the pregnant teenage star of Juno, which is fast becoming a lightning rod for both sides of the pro-choice/pro-life debate.
Wearing a green "UAB Blaze" T-shirt topped by a black jean vest, she sips Voss water and plays with her coke-bottle glasses when she meets OK! at NYC's Union Square Hotel. The dramedy, in theaters Dec. 5, also stars Jennifer Garner, Jason Bateman, Michael Cera and Allison Janney.
Article continues below advertisement
"People get so hot and heavy about everything," she explains to OK!. "But whatevs. I'm completely pro-choice. I feel like older white men with money should definitely not be able to decide what happens to a woman's uterus unless we want to go back to clothes hangers."
Jennifer, who is mom to 2-year-old girl Violet with hubby Ben Affleck, gave her some advice about playing a pregnant character believeably. "She was extremely helpful in regards to when I would get stuck with 'how far should the body language go?' "
The actress, who started her career in Canadian TV at age 10, has worked steadily in film and TV, but she is best known for Hard Candy, the 2006 thriller in which she gets gory "revenge" on a pedophile. Although the film was not widely seen in America due to its unsettling content, it was a huge success in other parts of the world.
"I was backpacking in Eastern Europe, and I'd get recognized in every hostel," Ellen recalls to OK!. "It was the weirdest experience. One Irish girl freaked out. She was screaming. It was weird for me, because I'm dirty, I'm in Serbia, and I'm playing the guitar. This Irish girl is baffled at how I'd be there, and I'm baffled at how she's doing that. It's very bizarre."
Article continues below advertisement
Following that controversial role, the young star says that some men are afraid of her, but she doesn't care. "I'm like 'you know what? You can get over it.' There are how many shows on TV that could be called Naked Women in the Dumpster Part 7 — Who Did it? Who Raped Her, and Cut Her and Threw Her in the Dumpster? Guys can handle one movie."
Like her character in Hard Candy, her pregnant teenager in Juno could be considered feminist. "I find it funny that whenever a young woman has remote strength," she explains, "she's considered abrupt because she speaks her mind."
And after already winning awards at both the Hollywood Film Festival and last week's Gotham Awards, the Oscar buzz around Ellen is growing quickly. However, just like everything else, she appears to be taking it in stride. "I try not to think about it. I've seen For Your Consideration," she jokes, referring to the Christopher Guest-directed spoof about a small film that garners unmerited award attention.
Article continues below advertisement
As for the actresses whose work she admires, Ellen mentions Laura Linney and Catherine Keener, saying, "I don't feel like you can be successful and talented without being a pretty awesome person. Laura came up to me after the Gotham Awards, and I was just like, 'Oh my God, you're flawless.'"
She calls working with Catherine in the upcoming drama An American Crime one of the best experiences she's ever had. "She's one of the most genuine, down-to-earth, solid human beings I've ever met. I was extremely inspired by the way she handles herself in all situations at all moments of being. She's just one of those people — you're like, 'Wow, thanks for existing.' It makes me feel better about being alive. She's egoless."
Ellen remains grounded by keeping up with her hometown pals.
"I feel like things will change as much as you let them to change. I can go to Nova Scotia and be in the woods with my friends and dogs, and be like, 'Oh wow, last week I was in L.A. wearing Miu Miu and high heels, isn't that funny?" That's so what I am, and this is what I do, and I want to make sure that there's a balance."
As for becoming a mother herself one day?
Article continues below advertisement
"I'm not even 21 yet, so I could change my mind obviously, but yeah, would I be stoked to have a little rugrat to take camping and climb trees with? Hells yeah. But I'm also not ready to listen to it cry and want the toy at Wal-Mart. I'm going to be like 'consumerism – bad!' Freak out on my child. I don't know if I'm balanced and selfless enough yet to be selfless to a little munchkin. I'm definitely into someday being able to have someone to shift my attention. I think it would be a cool process."