NEWS
OK! Interview: Estelle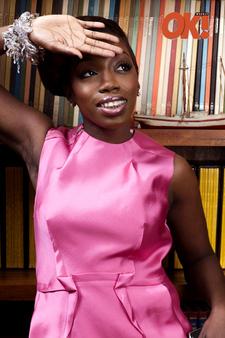 The Beatles sang "I get by with a little help from my friends." It's a message fellow British pop star Estelle has taken to heart as she cracks the U.S. with the help of pal Kanye West (who is featured on "American Boy," the breakout hit from her American debut album, Shine). The friendship also produced a Grammy for Best Rap/Sung Collaboration in February.
Article continues below advertisement
The singer, 29, just completed a U.S. tour, and is now a spokesperson for Crystal Light. She spoke to OK! at New York's hip Maritime Hotel about why she gave away her Grammy and the benefits of putting on weight.
OK!: Where's your Grammy?
I gave it to my mom. I don't like to keep any awards, because I feel like it makes me lose focus a little. I never like to look at what I've accomplished – I want to keep it moving. I want to get more awards in the cabinet.
OK!: Sum up your Grammy experience.
I felt like, "Wow, the world knows my name and now I've performed at the Grammys and I want to cry. It took me 10 years to get to this point."
OK!: Do you think Kanye West is misunderstood?
I think he's very misunderstood. Like he says, he's a black-bred bloke in a gray world. He's a dash of red paint in a gray world. He lives by his own rules. That's a good way to live.
Article continues below advertisement
OK!: Are you dating anyone?
I am dating; he's in the business. I like calmness in a guy and somebody who has his own life as well.
OK!: How has your style evolved as you've gotten older?
When I hit 25, I figured I would show my boobs and my legs off because when you hit 30, they all go downhill.
OK!: Got any style tips?
Spanx! I have a million pairs. No woman is perfect. We all have our fat days.
OK!: What are your fashion pet peeves?
People who wear stuff only because it's a trend – I hate that. It doesn't suit their body type, and it isn't what they like.
OK!: How do you deal with the pressure to stay thin?
I don't. I'm naturally skinny. I'm just starting to put on weight this year, and it feels so good because I'm getting more of a butt and boobs.
OK!: Do you eat healthily?
I work out but I'm not one of these no-carb freaks. I'm human.
OK!: Looking ahead to summer, what's your favorite outfit for hot days?
In the summer I wear as little as possible without looking naked! I'm not one of these people who is scared to wear shorts. I love shorts and a sleeveless undershirt, simple clothes so you don't end up being hot and sweaty.