NEWS
OK! Interview: Eva Mendes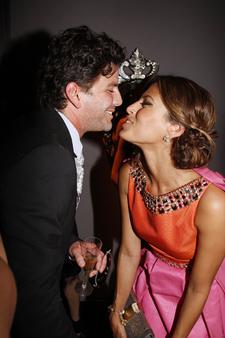 Eva Mendes says she's "so excited" to be the face of Calvin Klein's Secret Obsession fragrance and their underwear, Seductive Comfort.
After seeing her naked on billboards, the male population got pretty excited too!
Eva, 34, spoke to OK! about getting into shape for the ads and why she loves her boyfriend.
What do you love that your fans might not know about?
"My secret obsession is love. I love "love!" I love being in love, and I love having
Article continues below advertisement
someone be in love with me. Love is the sexiest thing in the world."
Tell us about your home decor line.
"My boyfriend and business partner, George Augusto, and I created Vida. We're
starting off with affordable, bold, romantic bedding. We hope people love it as much
as we do."
Do you like to do something other than acting once in a while?
"I'm so happy to be in a place in my career where I can branch out and pursue other things that I feel passionate about."
What are your beauty tips?
"It's obvious but important: water, water, water! Staying hydrated is the best thing
one can do for their skin. I'm also big on moisturizing. I love to cake on heavy face
cream. Cocoa butter has saved my dry skin many a time!"
How did you prep yourself for the Calvin Klein shoot?
"All I did differently was increase my cardio for two weeks because I wanted
these images to look like my real, healthy body. I didn't want to show up looking
like the skinny version of me. I wanted the real version of me up there."