NEWS
OK! Interview: Heidi & Spencer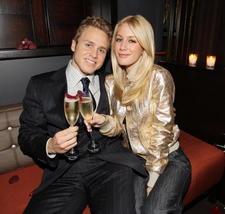 Over the weekend, the Hills' Heidi Montag and Spencer Pratt ventured east and headed to the Borgata Hotel & Casino where they hosted Saturday night at Murmur. Before heading inside to listen to the sounds of DJ Eric Cubiche, OK! sat down with the dazzling couple.
How is your weekend going?
Spencer: We've had two of the best dinners: one at Bobby Flay and the other at SeaBlue.
What was it like directing Heidi in her video for Higher?
Article continues below advertisement
S: She really directed herself. She was like,"'I'm going to do this" and it was so much fun. It took us 20 minutes. We were already at the beach, we had a boom box with batteries, and I was playing it so she could hear it and sing along. It cost $0. Anybody that says negative things about it, it's like, give me $2 million and then let's see.
And what was it like being in a bathing suit? Were you intimidated that the world is going to see you like that?
H: I love the beach, love being in bathing suits. I feel like it was another day at the beach pretty much.
You looked great in it. I want the stomach and the body!
S: Heidi does more sit-ups than Van Damme. Throughout the day, all day.
H: I do a lot.
Heidi, who in Hollywood would you consider a beauty icon?
H: I think Charlize Theron is beautiful and Britney when she was "Britney."
You have the abs that Britney used to!
Article continues below advertisement
H: (Laughing) Thank you!
Since your surgical procedures, do you feel you have more self-confidence?
H: I feel I'm more confident and more comfortable in my skin.
At least you admit it. Thanks for being honest and speaking up.
H: I'm sure every person in Hollywood from A list to Z list has had something done.
Spencer, what is the sexiest part about Heidi?
S: Hands down, her personality. There are 3 billion girls on the planet and they all look different, and Heidi has the biggest heart and has the most faith. She prays for anybody all day. I'll find her on the floor praying and I'll ask, who are you praying for, and she'll say everybody. That is the kind of person I want in my life. Praying for me and my family and our enemies and our friends. That's what I love about Heidi.
What is your status right now?
S: The status is that I can't afford the $2 million ring that Miss Montag is looking for.
Take the money for the next video and put it toward the ring!
S: There you go!
H: It's not enough!
By Alisandra Puliti