NEWS
OK! Interview: Ice-T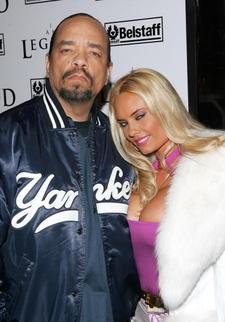 Ice-T, the former US Army soldier-turned-gangsta rap founder-turned actor spoke with OK! from Jay-Z's 40/40 Club. A New York resident and lifelong New York Giants fan, the 49-year-old and his wife CoCo were there to host a Giants Super Bowl party, sponsored by Tupperware, with proceeds going to the Kips Bay Boys & Girls Club. Seated with CoCo in a private lounge inside the club, Ice spoke about everything – from Tupperware's O.G. credentials to a pride in his city that goes beyond the winner of a football game.
Article continues below advertisement
How did you and CoCo meet?
I met CoCo on a movie set. I was in a bad mood, and my boys knew I was grumpy. They saw her and introduced me to her to try and cheer me up.
What're the best and most challenging parts of being a cast member of Law & Order: Special Victims Unit?
The best thing is that it's a hit show. The best thing is that everybody that's on the show is mad cool in real life. The hardest thing is the work schedule – when you're working, you're on, and it's a dead-serious show. You got to know your lines, they won't let you get away with it. But it's very rewarding, and we're almost at 200 shows, so – I only went on it for four shows, and now I'm on my eighth year, you know, who would have thought?
How about those Giants?
Giants – and I haven't watched a Giants game all year! I'm just hoping for some New York pride when we win – I live here. I don't even know where New England is.
Did you have anything riding on the game?
No, I got a gambling problem. I lose.
If you won, it wouldn't be a problem.
True.
What's been your best use of Tupperware?
It's all about leftovers – if you're rich, you don't need Tupperware. But I was telling the guys, I used to take Tupperware into the field when I was in the army, and we would go on movements. But before we would leave, I would pack Banquet fried chicken into my Tupperware. Then three days into the movement, everybody was eating c-rations, I would pull out a big chicken leg. Everybody's confused, I just look gangsta – "Tupperware."