NEWS
OK! Interview: Idol Castoff Tim Urban!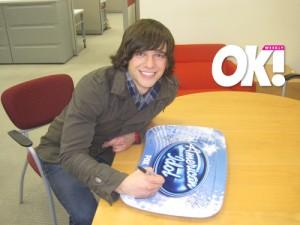 Tim Urban's American Idol journey started off very differently than the rest of the contestants, as he was sent home at the end of Hollywood Week, only to later receive a call asking him to come back to the show and join the top 24 after another contestant was disqualified. voted off?
You never expect it, but you can't let it surprise you. It's always possible. It wasn't their favorite performance of mine laughs. You get bad reviews, only 7 people left, so I was ready for it. I was like, "Okay it's my time to go."
Article continues below advertisement
OK! NEWS: AMERICAN IDOL LIVE TOUR DATES ANNOUNCED
What did you think when you got the call to be in Top 24 after being sent home?
I was back home, back in the swing of things. I was working, trying to figure out what I wanted to do next. Then I get a phone call, and I'm like, "Sure I'd like to come out to L.A. and be on the top 24 laughs."
Did you ever think you would get this far?
No, oh no. Especially after that first week, I was like, "Umm, well. I had one week on the top 24. I'll be back home soon." That was after the reviews of that first song. It was brutal. I didn't sing the song well, I know that. It's not like I'm in denial. So I didn't think I'd make it past the first week, so after that, I was just going to go out there and have fun. That's when the switch turned. I'm here, I wasn't supposed to be here to begin with, but I'm here now past a week of my worst performance, so just enjoy and have fun.
TIM VISITS OK!:
Were you bummed when the Web site Vote for the Worst picked you?
Yes! Oh man, so not excited about that. I know they have their thing that it's just a big joke. I get that, I understand that's what they do. You pick on me, I can deal with it. I got picked on by a lot of blogs, a lot of different people. It's basically what they were doing in a back-handed sort of way. But I really really hated that I was associated with the Web site because of how they treated other people. People associated me with that Web site and you go there and they just tear up and are really brutal to a lot of incredibly talented people who don't deserve to be talked about like that.
Article continues below advertisement
OK! BLOG: ANOOP DESAI'S IDOL DISH
So it's hard to read what people are saying about you on the Internet?
Yea, I hate that. It just shows so little class to do that. For me, if you don't like someone as an artist, you don't buy their music, you don't go to their concerts. If you don't like someone on American Idol, don't vote for them, vote for somebody else. That's the worst part about that whole situation and I really didn't want to be on that Web site.
And now they picked Siobhan Magnus as their next choice.
Yea, I saw that and I was like, "Come on!" Just give it a rest. It's really frustrating.
Everyone says "Why are you always smiling?" Is that the No. 1 question?
I get asked about the smiling and the hair. The most popular questions, I think.
Are you just always happy?
It's not necessarily being happy. It's just being content where you're at and grateful for what you have. It's basic stuff, you grow up hearing that. Be happy for what you've got because just like that, it could be gone. I was put in an absolutely incredible position in front of millions of people, an opportunity that millions of people have tried out for. 100s of thousands every year. For me, I don't understand how you can be in that position and not smile. That's just my personality.
Article continues below advertisement
OK! NEWS: AMERICAN IDOL'S TOP SIX REHEARSE FOR SHANIA TWAIN WEEK
So you didn't let the judges critiques get to you?
No, that's their job. If they liked me every week, I would be like, "Okay, thanks."
Did you think they were too harsh sometimes?
I didn't like some of the critiques they had for other contestants. That's just me loving all the contestants and hating to hear them get cut down like that. Especially because you know when they come off stage, you can just tell that it sucks getting those comments. For me, it never bothered me when I got them, I was like, "Okay, cool." If I am here next week, I will work on it. You hate watching other people get it.
OK! NEWS: TIM URBAN TALKS IDOL ELIMINATION
You did "Apologize" on the show that Kris Allen did last season and you did "Hallelujah" that Jason Castro did in season 7. Were you worried about comparisons?
No, I wasn't worried, but yes I knew it would happen laughs. If you ever do "Hallelujah," you're going to get compared to everyone else who has done it and everybody else has done "Hallelujah." Who are they going to compare you too? Jeff Buckley. You're on American Idol so probably Jason Castro. If you're a fan of Rufus Wainwright, you'll get that. But forget it, if you love the song, play the song, sing your heart out and mean every word. It's a beautiful song. That's how I went into it. They're going to compare me to whoever and I will regret it if I don't sing this song. I love that song.
Article continues below advertisement
Were you bummed that you didn't get to sing after you were eliminated because of Idol Gives Back?
Yes and no. It was the best week to go home, because of Idol Gives Back and you get to be a part of something cool. It was fine, I wasn't even that upset because to be a part of that show. They told us we weren't going to get to sing beforehand. When we were waiting for the results, they said we're going to go way over, whoever goes home, you won't get to sing. I was going to sing "Hallelujah" again, but then I got to perform it on Ellen. So it's not like I didn't get to sing again and I will be back for the finale and tour. I don't know if I'll do it on the tour. I haven't decided what songs I am going to do on tour just yet.
Are you excited to go on the tour?
Are you kidding me? The tour is going to be cool. It's going to be a blast. I can't wait to meet the fans. You get messages, mail, all this support. But there's no face with it. You go out on tour, you get to actually meet people, shake hands and say thank you. That's going to be really special. Playing to a packed stadium, I've been part of a packed stadium and felt the energy from just being in the crowd. I can't even imagine going on stage and performing.
Article continues below advertisement
OK! NEWS: AMERICAN IDOL SAYS GOODBYE
Have you heard the comparisons to Zac Efron?
And Justin Bieber! I've heard it more than Zac Efron. I've gotten Justin Bieber so much!
What are your career goals?
My goal is to make entertainment something I do for the rest of my life. I will always play music, sing and write songs. And I will try to record that and get that out there for people. But I would also love to act and be a part of other parts of the entertainment industry. I'm trying to focus on the tour. I'm trying to make sure that I'm ready to perform and that I do my absolute best every night on the tour. After that's over that's when I step back and go okay, what's out there? What opportunities are there and how can I pursue this? I'm open to hearing about anything.
Who were you closest to on the show?
Different people in different ways, I was roommates with Big Mike and Casey. Got along with them really well. Aaron is like my little brother, so we have that bond, which is pretty special. Lee and Andrew are just cool guys, love hanging out with them too. They have one of the coolest friendships I've ever seen. They were competitors, they were against each other. But there was nothing about them that was a competition. As far as the show goes, they weren't trying to take each other. They wanted to be on the show together as long as they could possibly could laughs. I think all of us on the show were rooting for them to be on the show together as long as they could because it was so cool to see the friendship. I'm really close with everybody in a different way. And I'm kind of excited to see who I get the closest to on the tour. It will be very different, there's no pressure. You're not stressing out about what song you're going to sing next week. Everybody just relaxed, having a blast. That will be cool.
Article continues below advertisement
Are you single? What are you looking for?
I am single. I'm not looking! I'm trying to keep my focus where it needs to be to take the platform that is American Idol and transfer that into the entertainment industry. I know I could get caught up in the whole American Idol experience. I could worry about that and ride that and let that fizzle out and do nothing else. It's very easy if you let it. So I'm trying to focus on the tour, but then afterward making sure that I use this opportunity to the best of my ability.
What are your plans for your 21st birthday on Saturday?
Sleep! Nope, no big party. I am done with the crazy schedule for a little while. You need to go home and rest. Idol is very non-stop. It's very nice to get away from everything for a little bit and just recover. I loved being on Idol, it was awesome. I wish I was still on there, but going home I am really glad I will get some rest. I go back for the finale in a couple weeks.
Article continues below advertisement
What kind of music do you want to do?
The Jason Mraz kind of feel, but with the unexpected creativity of Coldplay. Not necessarily their style, but just the idea of every CD and every song you have no idea what you're going to get. Almost like Dave Matthews, just keep fans interested and riveted. That's kind of what I'd like to go for, but what it would actually sound like, I don't know. It will be whatever I feel best represents me.
What was it like when former Idols have visited the show?
The former Idols who have come back have been really cool and super friendly. They totally get where we are at. Adam Lambert was a great mentor. He had really great advice for the show having been on it before. It's been really cool getting to meet them.