NEWS
OK! Interview: Jessica Alba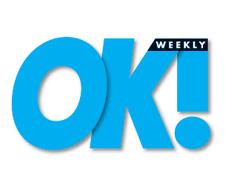 Although Jessica Alba has been acting since she was a teenager, the 24-year-old beauty finally got her break this summer with two hit films, Sin City and Fantastic Four. Jessica's next offering is the underwater adventure/romance, Into the Blue, opposite hunky Fast and the Furious actor Paul Walker. We caught up with her in sunny L.A.
How do you feel about your "tough sexy girl with the killer bod" image?
Article continues below advertisement
It started with the marketing of my TV show Dark Angel. They played trailers during football games, but it doesn't mean anything to me. I did Sin City, and my character couldn't have been more passive and sweet. In Into the Blue, she is very sweet but raining on everyone's parade. In Fantastic Four, I played kind of a mother to those guys. But they are all strong women.
Your first big break was on a TV show. Are there any other shows you'd liketo guest on?
I don't watch TV, but I did see Desperate Housewives once because I love Eva Longoria. She's a great friend of mine. She's wonderful. We have the same manager. When I met her, I gave her a big hug, and we became instant friends.
Did you do the stunts for Into the Blue?
Yeah, most of them. I went 45 feet down. I was the longest underwater and dove the furthest.
So, you're a water person then?
Pretty much. My mom was a lifeguard when I was a baby, and I learned how to swim before I walked. I've always been comfortable in the water, even though I am a Taurus, not a fish sign!
Article continues below advertisement
Did you take diving lessons for the role?
I actually brushed up on my scuba diving with a couple of friends on the Cayman Islands before filming. I didn't want to have a camera on and not know what to do. If you saw a big butt, then you'd know it was mine, and if you saw a flat butt, then it was probably my stunt double!
Big butt? You have the best body in Hollywood!
Oh no! That's not true. I do have curves. Laughs
Did you get into tip-top shape when you found out that most of your scenes were in a bikini, kissing Paul underwater?
Laughs Yeah, everyday I wore a bathing suit! It would have been weird wearing wetsuits in the Bahamas, because it was so warm. I trained as much as I train for any movie I do.
You've described yourself as shy. Would you ever do a nude scene?
Well, I'm going to have to face that when a big director who I really respect has an amazing story; it might be necessary for me to do that. But right now, I couldn't sleep well at night being naked in anything. My father would lose his mind! Laughs
Article continues below advertisement
Is that the reason or is it because you're shy?
I think it's both. It's funny because I'm actually okay with my body and the fact that I have curves and flaws, and I think that European women have a much healthier attitude about bodies and sex, and I have more of that mentality. It's just that, especially with the Internet, it's so exploitative. Even if you're doing a scene in a beautiful movie with a great director, they can turn it to smut right away. I guess I'm just not ready to deal with that yet.
Were you afraid of the sharks in the water?
I tried to ignore the fact that they were there and that they're big and hungry, but it didn't help when they put us in the middle of them during a feeding! My heart was beating fast, and they must have known I was terrified.
Did they try to nibble?
Yeah, a few times, but it's not like a nibble. It's like they're catching you because it's a six-foot shark. When a shark is coming toward you, you either smack them with your palm or the side of your arm. They don't want to eat us; we don't taste good to them. It's just a reflex, because they're not the brightest animals in the world.
Article continues below advertisement
Did you get seasick?
Yes, I got terribly seasick. I took Dramamine prevents seasickness everyday. It makes you drowsy and I was so tired, but I knew after 20 minutes of being in the water, I'd start shivering and be wide awake!
Were you ever rebellious as a teenager?
No, I was a born-again Christian. All of my Christian friends were recovering alcoholics or recovering drug addicts, though I personally did not have any of these problems. Even when we went to the beach, we would have a Bible study. Everything revolved around church. When I was 16, I studied acting at David Mamet's theater company up in Vermont and that was a huge wake-up call. I was living with 35 people in a dorm and none of them were born-again Christians. I was exposed to real people in Vermont. Some were gay, some were having casual sex and some were cursing. I was surrounded by all of these things, and I was like, there is no way all of these people are going to hell! Laughs
And now you're in a bikini on a big screen! How do you deal with admiration from men?
It's just a part of the job. I really don't put that much thought into it. I have hair and makeup people who do their thing and great photographers.
So, how's it going with your cute boyfriend, Cash Warren?
Yeah, it's good. Laughs
When are you two getting married?
I need time to get engaged first! But I like weddings. I've looked at baby and bridal mags since I was 15. I also love cooking magazines.
Article continues below advertisement
Are you a good cook?
Yeah, I just learned how to make a peach cobbler. I think that is my best dish now. But I can pretty much cook anything.
What is the biggest turn-on in a guy?
Umm, confidence and a sense of humor.
As a movie actress, do you feel the pressure to be thin?
Well, yes, but I think every woman feels that. I feel the pressure to be in shape and healthy more than to be thin. Teenagers read magazines and often feel the need to be superthin. If only they could see the magazines before they're Photoshopped. They all feel they would be accepted if they fit in a certain box, whether it's Beyoncé or Gisele. Society likes thin women, and it's hard to conform to a certain standard.
Are you a shopaholic?
Oh yeah, I really do like shopping, and I don't like being dirty! It's funny how I do a lot of movies where by the end of the day, I'm filthy! Laughs Everyday I came back from this movie, especially from the fight sequence on the boat, with oil, grease, fish and gasoline all over me!
How would you describe your style?
I'm kind of modest in some ways. I'm not somebody who would wear push-up bras and short miniskirts. I've never been that girl! I was watching MTV one day, and Beyoncé's "Baby Boy" video kept coming on, and she was dancing in this little negligee, with high heels and she looked amazing! I know she is a voluptuous, beautiful young woman, and I was like: "Wow! She's doing it in heels!"
Article continues below advertisement
So, are you a jeans-and-T-shirt girl?
I wear sweats. I don't even go as far as jeans! Laughs Jeans are too tight and cumbersome.
What are your best beauty secrets?
Not too many kids know about sunscreen and moisturizer from a young age. Drink plenty of water. I had a pretty good face regimen from a very young age, like 13. I do Tae Bo three times a week, and when I'm not too lazy, I go to the gym and work out with weights and do cardio.
Do you have a beauty regimen in the morning?
Yes, I wash my face and put on moisturizer every morning and night. As an actor, you have to be more on top of your skin and your hair. I have to go in every ten days to get my roots done wh
en I'm blonde. It's annoying, because it's not who I am. I'm the girl who pulls my hair up into a ponytail everyday and wears a baseball cap.
It takes guts for a woman to cut her hair short, why did you go for the chop?
I think I did it because my boyfriend needed a stranger in the bedroom — kidding!