NEWS
OK! Interview: JoAnna Garcia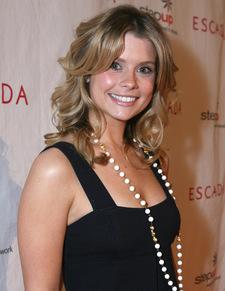 OK! spoke with JoAnna García, current member of CBS's Welcome to the Captain's ensemble cast, former Reba out-sasser standout and one of the stellar group of young talent that played our former favorite Freaks & Geeks. From her home in Los Angeles, JoAnna talked to OK! about the comedic-genius stylings of Jeffery Tambour and her secret to having that good girl image.
The cast on Welcome to the Captain is very eclectic, how has that experience been?
Article continues below advertisement
Well, it was definitely the writing skills of the master, John Hamburg, in putting together this incredibly eclectic cast, for sure. And the sweet people over at CBS for offering me a chance to be a part of this project. I cannot tell you how excited I was when I was reading the script for the show. To be able to play something so completely different than Cheyenne, and not really knowing how I was going to fit into the marketplace after doing a show for six years, and knowing what I wanted to do after being a part of something for so long. I was just really excited.
Did you learn anything surprising about them while working with your new co-stars?
I was surprised with how great everyone was. When you have someone like Jeff, and I know he'd be really embarrassed to hear me talking like this, but when you have a comedic genius, you never really know what you're going to get when you have that type of character. There's a lot to a person who's that funny and talented. Jeff is truly one of the most loveable, kind, adorably misbehaved man — he's hilarious, I was so impressed by him. And Raquel Welch, she's truly an icon. When she walks into a room it takes your breath away — she's got this beautiful face and amazing body, and she looks at you and wants to talk about your boyfriend, and your life and your love. Chris, or course, was amazing and so fun to work with. And Al Madrigal, who plays Jesus, was hilarious, Fran was so talented, everyone was just great.
Article continues below advertisement
So when you were working on Freaks & Geeks, did you ever imagine that so many of your co-stars would go on to such big things?
No doubt in my mind, I knew when I working with those people that they were going to be huge. Judd Apatow is just ridiculous. And Paul Feig and all of those guys put together this cast of people, I was just lucky enough to be added to the back end of it. But these kids, good lord you knew it. They all write, and they're funny, the whole thing was just such a monumental job in my life, I can't say enough about it.
Do you still keep in contact with all of those people?
Yeah, I see them all. Jason Segel shot How I Met Your Mother next to where we were filming Reba, so I reconnected with him there. Linda and I have a lot of mutual friends, Busy Philipps married one of my very dear friends, I see Seth all the time, so yeah, we all see each other a lot.
You've been on TV for a while now — something we don't hear about is you getting arrested or going to rehab or whatever, so what's your secret?
Article continues below advertisement
I've got a really great publicist. No, I think it's that… I kind of live a private life. I am out a lot, I have amazing friends and see a lot, so it's not like I'm a hermit. But I just know what I do for a living and that there are certain sensitivities. I've made my share of mistakes, but had the good fortune to have them not be so public. I've learned from them though, I'm not such a young cat anymore.
Come on, I'm sure you've still got some misbehaving left in you.
Oh yes, really, I'm definitely not as angelic as I appear or sound.
Do you think it's unfair for people to trash Jessica Alba for not speaking Spanish?
I do — I think it's unfair for people to trash anyone for anything like that. In regard to her not knowing who she is, her not wanting to be proud of her Spanish heritage, I think that's her own right, and no one has the right to judge that. I'm extremely proud of being Latin, it's a big part of my life. It's not something I outwardly promote, just like I don't outwardly promote that I have green eyes and blonde hair. It's a part of who I am. I love the richness of the culture I grew up within. But shame on people for hating on her for that; she can be whoever she wants to be.
Finally, are you afraid of the dark?
Totally. I have this massive camera system in my house because I had a recent burglary. I find myself staring at the monitor late into the night. I definitely am afraid of the dark. Somehow, in my mind I can always come up with some horrific stuff to worry about.
By John-Paul Anthony