NEWS
OK! Interview: Jonathan Murphy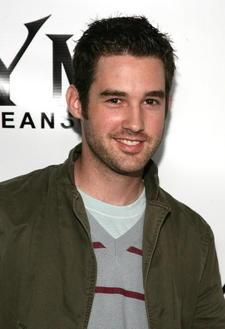 These days, it's hard enough to be seen on one show, let alone two. That's not the case with Jonathan Murphy though.
Although in the midst of an almost over writers' strike, the brown-haired, blue-eyed hunk is currently gracing the small screen in two series, both, coincidentally in the ABC family and both airing on Monday nights. He stars as Ronnie Garrett, the younger brother of Nick (Bryan Greenberg) on October Road and has just been introduced as Calvin Handley in the fourth season of Wildfire.
Article continues below advertisement
"Calvin's invented this wind turbine that's going to have a huge cause on global warming and foreign oil and production," Jonathan tells OK!. He's kind of a smart, Bill Gates-ish kind of mind that is going into the wind turbine business."
Get the double dosage while you can though because both series will be off the air by spring; their future is unknown due to the writers' strike. One of the lucky shows, October Road continued filming its 13 episodes throughout the strike (Wildfire finished shooting prior to the strike), but now that production's wrapped, the 26-year-old is feeling the sting of uncertainty — for both series.
"We don't know yet, of course with the strike and everything that's going on with that, we don't know, because they can't write any episodes — it's all up in the air. On Wildfire, my character's story line is kind of left open, so whatever they decide, it's quite possible I could go back to that show."
As for October Road, the whole cast is keeping their fingers crossed for a third season, which will pick up from their finale where "a lot of things are left unresolved," he teases.
Article continues below advertisement
"We're hoping to just get back and wrap everything up. I think it's just a waiting game right now."
Jonathan is sure familiar with that. A Texas native, he moved to Los Angeles to pursue acting in 2001 and toyed around in guest roles for years before landing on Road and Wildfire, although he didn't think it would take so long at first as he was naively misled by his first gig.
"I booked the first job I ever auditioned for in L.A. on The Bold and the Beautiful. I was like, "This is easy, I should have moved out here a long time ago." I didn't work for maybe eight or nine months after that. I got a quick taste of the success and a long taste of the lean times."
Things are looking a lot healthier these days — Jonathan has his first two films coming out this year. Covering both drama and comedy genres, he can be seen in next month's Broken Windows with Larisa Oleynik, of 10 Things I Hate About You fame, an indie about interconnected lives in the vein of Crash, and the buddy laugh-fest Ready or Not. He will start shooting his third feature, Scribble, about a writing support group, in February.
Article continues below advertisement
If he had his druthers, though, he would love to take it to the stage. Trained in theater, Jonathan says starring under the lights of Broadway would be his ultimate dream.
"There're just so many more musicals and I wish I had a better singing voice, but I would love, love, love to do a show on or off Broadway — it's a huge aspiration of mine," he says. "Theater has so much more of a thorough line, a start to finish that is really absent in television. Someone once told me that on television, you're not acting, you're fracting. You're fragment acting — that's the big difference. A lot of people say theater is the purer form of acting, and in many respects they're both a type of pure form, just different types of beasts."
When he's not busy working or dreaming of the Great White Way, Jonathan can be found playing poker and cheering on his beloved Dallas Cowboys, for whom he predicts big things in 2009 now that their Super Bowl dreams are shot.
"This is a huge sore subject for me right now," he laughs. "But we haven't won a playoff game in 12 years — it'll be lucky number 13 next year, and Tony Romo's third time in the playoffs, so third time's a charm."
Article continues below advertisement
Unlike other ardent Cowboy fans, he doesn't blame Jessica Simpson for the team's less-than-stellar performances.
"It's not Jessica Simpson's fault, leave the poor girl alone. It's a team sport, not an individual sport. The poor girl, she's from Texas, we all love football. Maybe the Mexico trip wasn't the smartest move — maybe a little jet lag. But they're professionals at what they do, so I'm not going to question a professional. You know what? Maybe next year. We'll be healthy and a team to be reckoned with."