NEWS
OK! Interview: Kristy Lee Cook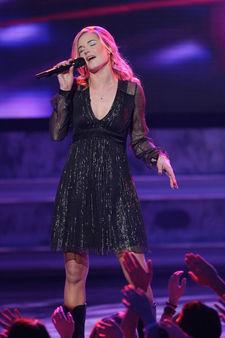 Who'd have thought, when we first saw that sweet, shy Kristy Lee Cook singing Amazing Grace in the American Idol auditions, she was... well, such a bad ass!
Today the Idol finalist told OK! that she once (in self defense!) beat up five girls at once and sent two women to hospital in a nightclub brawl!
It sounds like the blogger who started an Internet hoax about Kristy Lee picked the wrong gal, too -- because she told us that she was pretty mad about it when her parents discovered the fake sex-tape that was posted online.
Article continues below advertisement
Kristy Lee's dad, Larry Cook, was a Golden Gloves amateur boxer and martial arts fan who taught his kids how to take care of themselves on the streets. He did kind of a good job.
"I got jumped twice!,' said Kristy, from Selma, Or..
"I got jumped when I was 17 by seven girls.
"It was me and my friend -- five were on me, two took her off.
"But I ended up on top!"
The second time Kristy Lee had to put 'em up was after a show at the Cowboys Dancehall, in San Antonio, Tx..
"That was kind of crazy!," said the 24-year-old, who was voted into seventh place on Idol on Wednesday.
"It was about two and half, three years ago.
"I'd just come off stage and I went right up front to watch my band perform. I guess this girl was having a confrontation with the woman I was standing next to, and she just walked up and punched me in the face.
"And I just came unglued!"
Kristy Lee says she wound up brawling with three people while her band looked on in amazement from the stage.
Article continues below advertisement
"I love telling this story," said Kristy, "Because she just came up and just out of nowhere just whopped me and I was like, 'what the heck was that for!'
"So anyways, they both got in trouble with the police.
"They both went to the hospital.
"I didn't!"
So maybe if those Internet pranksters had known a little more about Kirsty Lee, they would have thought twice before making her the victim of their Internet hoax.
Back in February, at the beginning of the semi-finals, a political blogger called "Heather", posted stills from raunchy video featuring a Kristy Lee kind-of-look-a-like (the short hair was a giveaway), on a site called undercoveredonline.com.
Rumors spread like wildfire around the Net that a sex tape featuring the singer had been leaked, but all it took was a few clicks to discover that the tape never existed.
Article continues below advertisement
When the tens of thousands of Web users tried to open the video, all they got was Heather's rant about the upcoming presidential contest.
Kristy Lee said today that she would have laughed it off, except for the fact that it was her mom and dad who stumbled across the supposed "sex tape" first.
"It was a little frustrating at first because my parents were the ones that found it, but I was like, 'Are you kidding? You really think that's me?'
"They know I've never had short hair in my life and I would never doing anything like that," she said.