NEWS
OK! Interview: Lance Bass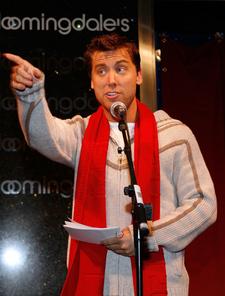 For years, Lance Bass was one of the five members of platinum-selling boy band *NSync. And while many former singing heartthrobs fade after their audiences are old enough to vote, Lance has been branching out since the group disbanded in 2002.
After an aborted attempt at space travel, Lance has written a memoir, Out of Sync, and currently stars on Broadway in Hairspray. OK! recently caught up with the pop star turned author at the lighting of the holiday window displays at Bloomingdale's in New York City, where he opened up on everything from his holiday plans to his love life.
Article continues below advertisement
With the Broadway stagehands strike in effect, what have you been doing with all your free time?
It's not too much extra time because we still go to the theater every day to check in, and the rest of the time my family's coming in and visiting... It's been great. I'm enjoying the seasons changing right now.
Do you usually spend the holidays in New York City?
My first time. So far it's great. I'm such a holiday freak that this is the perfect city to experience all that. The city is so beautiful.
Do you cook?
I will. Usually I deep fry turkeys but I can't do that here in New York; it's too dangerous. I'll make the normal Southern casserole-type stuff. I'm getting a turkey made for us cause I'm doing the Thanksgiving Day Parade so I won't really have time.
How's your boyfriend, Ben, doing?
It's been really great. For once I want to have a relationship outside the public eye.
What else do you want to do musically?
I don't know yet. There are tons of ideas I have. I want to toy around with producing a Broadway show. So I have a couple ideas that I want to bring to life — I just don't want to say right now. Wouldn't want anybody to steal my ideas!
And then maybe write some more music in the studio and see where that takes me.
By Jocelyn Vena