NEWS
OK! Interview: Matchbox Twenty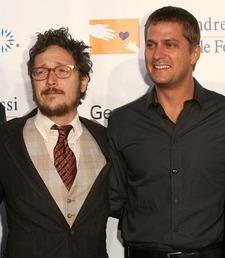 A decade ago, Matchbox Twenty jumped onto the music scene with complaints about the real world and angst ridden love affairs. Now, in their thirties the guys have released a greatest hits collection, Exile on Mainstream, and found success all over again, much to the band's dismay.
Guitarist Paul Doucette tells OK!, "I'm always surprised especially because it's a greatest hits in a time when record sales are going down and down and down. It's nice to see there's an interest in what we've done and where we're going."
Article continues below advertisement
But don't get the guys wrong. They don't mind the success and despite the sort of backlash that comes with being a mainstream act, they're more than comfortable with the genre. "It is what we are. We are a pop rock band and we have no control of what the mainstream is. We're pretty normal guys and we make music that resonates with us," lead singer Rob Thomas said.
He added, "We are a collection of our songs and a collection of the music we've made over the years. It has very little to do with who we're having sex with and what we do with our free time. We're not a celebrity band."
"Matchbox, at its best, time is the four of us together; it's equal parts all of us really," Paul chimes in.
You can catch the band on tour now (Paul promises "a big rock show" and Rob says "there's lots of lights") and on the PBS Soundstage sponsored by Mastercard.
By Jocelyn Vena